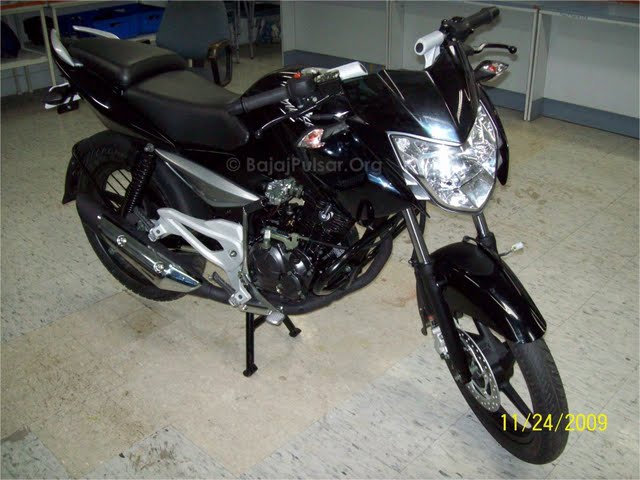 UPDATE - You are viewing an older post. Bajaj Pulsar 135LS has now been launched. Click here to view images and read more on the 135LS
The chaps over at Bajajpulsar.org have somehow managed to get some decent close-up snaps of the new Pulsar 135cc which enters showrooms in the coming weeks.
We all know that the Pulsar series from Bajaj ranges from 150cc to 220cc and we have seen so many variants of these bikes within this engine capacity. Bajaj, which has been very active this year, and wants to wrap up 2009 with something memorable.
So here we go -- Bajaj is launching a 135cc motorcycle in its Pulsar Series this December. The Pulsar series is full of powerful bikes starting from 150cc but this time Bajaj is introducing a 135cc pulsar which would be a blend of power, efficiency and style.
Bajaj Pulsar 135cc dilemma
Bajaj's 135cc segment already has XCD 135 DTS-Si and Discover 135 DTS-i, so one wonders if the Pulsar 135cc is necessary. The Pulsar brand of motorcycles is embedded in our hearts as budget performance bikes, but a 135cc motor is taking it too far. More so when you consider the XCD and Discover variants, which can always be used for this segment.
Bajaj started the Discover with a 125cc engine and few years down the line, we see it carrying a 100cc engine. With the Pulsar coming down to the 135cc level, what happens to the XCD brand? Will it kill of the XCD135?
There's a lot of confusion in Bajaj's product positioning. We feel it is unnecessary to fiddle with the Pulsar range since its customers are not looking beyond a level in the fuel efficiency front. If it is style and features that they are looking at, why can't the XCD be worked on and finished to the desired level? With the entry of the 135cc Pulsar, Bajaj's product line is going to look terribly muddled and highly disorganized. True, there are going to be more options, but Bajaj's extra options come at the cost of lesser clarity.
Bajaj is one company which always keeps me guessing when it comes to product strategy. They have produced some of India's best motorcycles but they should also understand that experimenting with a brand that's regarded as India's front-running performance motorycles, is going to leave them with serious wounds if the going is not good.
This bike will directly compete with bike likes of Honda CBF Stunner luring customers for both its style and performance. Some of the features the bike would be equipped with are as follows:
Bajaj Pulsar 135cc features
Split Seats
Split grab rails
Sporty rear with high stance and sporty mud guard
Swept up exhausts
LED tail lights
Sporty rear foot pegs
The muscular Pulsar fuel tank
Sporty low clip on handlebars
Arrow-shaped turn headlamps
XCD-like headlamps
Sexy Frame
Digital Speedometer
UPDATE - You are viewing an older post. Bajaj Pulsar 135LS has now been launched. Click here to view images and read more on the 135LS
Bajaj Pulsar 135cc Image Gallery
Source - Glifford from Bajajpulsar.org