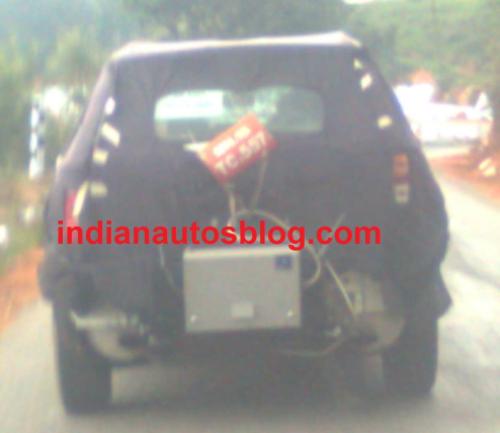 Here are some exclusive spy photos of  Mahindra's World SUV (codenamed W201), thanks to our reader, Venkatesh Shreyas. From the looks of it we can say that this car is going to be a looker, running on massive JK Tyre Elanzo 235/55R17 tires. Mahindra's designers have gone for a very refined design, shedding the company's rugged (read crude) looks.
From what we can make out, the car looks more like Jeep than a Mahindra with the even more edgy seven slat vertical grille up front. The amount of detailing in the twin-barrel headlamp cluster is good and the day time LED  running light strips are a nice touch. They remind us of the Audi Q7.
The million dollar question is: What engines would Mahindra be ploughing into its world SUV? The 4-cylinder 2.2 CRDe unit is a natural choice but when Mahindra is eyeing America and Europe, will this four pot do the trick on such a massive SUV? We're also receiving unconfirmed reports of Mahindra working on a V6 petrol engine, which can also squeeze into the Scorpio's engine bay. A four cylinder diesel and V6 petrol as options on an international SUV? Doesn't sound right.
We speculate that Mahindra could use the 5 cylinder 2.7-liter common rail diesel engine sourced from the Ssangyong Rexton. This engine has its roots from Mercedes Benz and is said to be a very potent churning out 165hp and 342 Nm of torque. Mahindra is sourcing engines from other companies, like the Gio for example which uses a Kohler built diesel engine.
Could the 5-cylinder Mercedes engine be Mahindra's trump card to making it big on foreign land.
Mahindra World SUV high resolution gallery