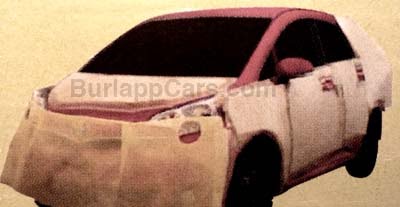 We have no solid evidence of Toyota developing a sub-Etios car for emerging markets like India. We do have some unverified facts and figures like the ultra-efficient 2-cylinder 800cc petrol engine that will power this 600kg car and its dimensions 3150*1535*1600 (L*W*H).
Toyota is said to be working on this small car for 2012, Its layout will be similar to the Nano - the space-efficient rear engined rear wheel drive layout.
Another awesome thing about this car is it'll be priced around three lakh rupees which should put right in the rutheless Suzuki Alto territory.
If you look closely at this camouflaged car you can see some connection with the Suzuki A-Star. Will this vehicle be a 4-door iQ with a rounded design?
Source - Vince Burlapp