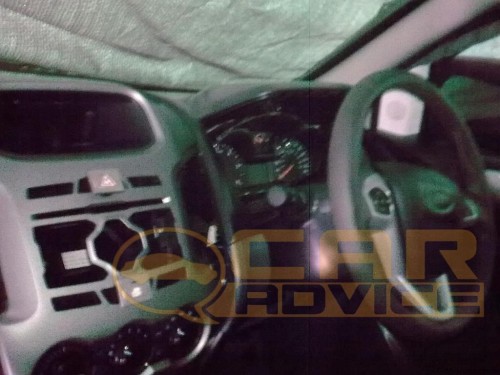 The 2011 Ford Ranger's dashboard will have good fit, finish and car-like attributes
The Ford Ranger, a highly successful pickup truck in Australia shares vital components with the Endeavour SUV sold here in India. A quick google image search proves previous versions of the Ranger have huge influence on the Endeavour's dashboard.
We feel it is safe to assume the next generation Ford Endeavour will have the similar dashboard layout as the future Ranger, which debuts next year and will sell internationally.
Codenamed the T6, the upcoming Ranger's dashboard has a hint of Fiesta (European Fiesta) in it. The steering wheel is straight out of the Fiesta while items like LCD screen, steering mounted controls keep it close to that of a car. The T6 according to our friends in Car Advice will have interiors with fit and finish similar to a Ford car.
We have absolutely no information whatsoever on the future Endeavour. In India, Forf is looking at introducing a couple of new Endeavour variants and the current model will run for quite sometime.
Source - Car Advice