Come Jan 3rd 2012, Bajaj would be hoping to recreate the magic Tata Motors created at the launch of the Nano a few years back. For the first time in 8 decades, Bajaj will present a car for the Indian masses. Very popular for its two wheelers, three wheelers and commercial vehicles, Bajaj has never had a single contender in the passenger car market. However, with the dawn of new year, the company will create history by introducing the ULC christened 'RE60'.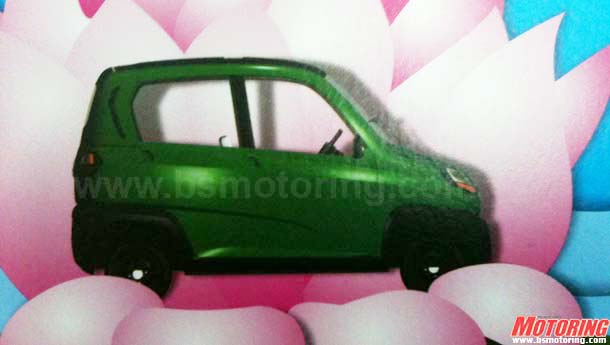 Our pals BSMotoring have presented us a small pic which they claim is the actual model. The model presented in the picture sort of looks like the Reva (a.k.a G-Wiz). The RE60 is may look like a car but Bajaj Auto claims that it isn't one. The company has made it quite clear that it doesn't intend to build another Tata Nano. According to Bajaj, the RE60 will be perfect, low-cost transportation solution; a three wheeler with one extra wheel for stability. We have no idea how to make sense of it all. Seeing the vehicle on the 3rd is the only way to understand Bajaj's proposition.
Anyways, coming back to the RE60. The 'RE' stands for 'Rear Engined' and the 60 stands for the 60 g/km of CO2 that the car produces. The RE60 will be powered by a 700-800 cc engine with priority given to fuel economy. The estimated figure is around 30 kmpl.
The RE60 will be a significant step forward for Bajaj Auto as the platform will spawn many variations in the future. Even the next generation Bajaj RE Auto Rickshaw three-wheeler could be based on the flexible ULC platform.
Although the project was initially conceived in partnership with Renault-Nissan, the car does not feature in Renault's five product plan. So whether this car will carry a Renault/Nissan badge will only depend on they how perceive the final product.
[Source: BSMotoring.com]