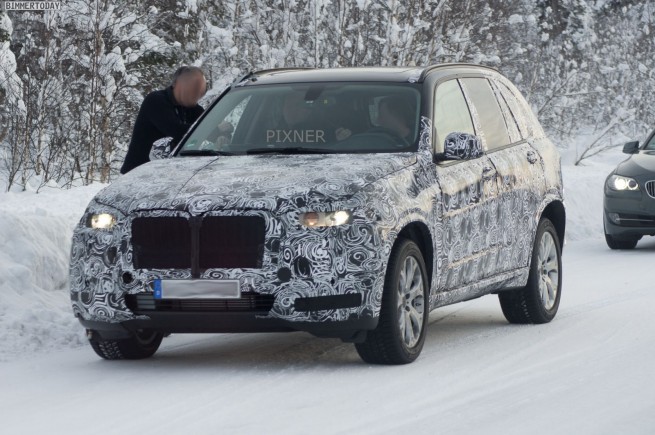 The BMW X5 is all set to enter its third generation in 2014. BMW has been testing the new X5 for the past three months now with various sightings around Europe. BMW is also in the process of facelifting its key models before their replacements are due. However, the BMW X5 caught over here is not a facelift but an all new model.
What's different underneath the new X5?
Codenamed F15, the new BMW X5 will sit higher above the ground that its predecessor. BMW's recent trend of sharing parts across portfolio will be observed in the X5 as well. The BMW X5 is also expected to shed a lot of weight to gain efficiency.
Lower weight and sleeker aerodynamics coupled with super-efficient engines, the new BMW X5 is bound to strike a good balance between performance and fuel efficiency.
What's different on the 2014 BMW X5's exterior?
The front fascia is expected to be similar to the new BMW 3 series (F30) with headlamps flowing into the kidney grill. Black Panel display, Heads-Up Display, Night Vision, new iDrive system and an adaptive suspension are some of the interesting features that the new BMW X5 will inherit from the 5 Series. BMW may also plan a more flexible 7 seater variant for big families.
More updates on the all new BMW X5 will follow as the story unfolds.
[Source - MotorAuthority (Video) via BimmerToday.de]