Spied testing at the Nurburgring (for interior spy shots, click here), Germany, the next-generation Suzuki Swift is undoubtedly losing camouflage with every passing day. The car's design will be an evolution of the current model and it is supposedly arriving with the same appeal.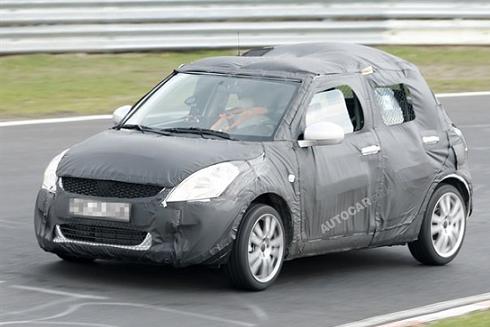 That's the right way to go. Why fix when it isn't broken?
What the similarly modeled exterior hides is a completely new platform that is designed to house other kinds of powertrains. For India however, you can expect the 1.2-liter KB-Series engine to continue its duties. We have also reported on the usage of a 1.5-liter KB-Series engine.
Variable valve timing technology will also debut on the Swift for the first time. Turbochargers will also come, but not on the Indian model. Automatic transmissions could also find their place on the new Swift which debuts at the Paris Motor Show in September this year.
As far as the diesel is concerned, VW could supply diesel engines for the vehicle so the partnership between Suzuki and Fiat could come to an end shortly. We think the 1.2 TDI used on the similar sized Polo will be a perfect fit on the Swift.
Maruti hates to throw away its cars, and with the recent upgradation of the Swift to meet BS4 standards, it is difficult for us to think of a complete phase-out anytime soon.
Source - Autocar India