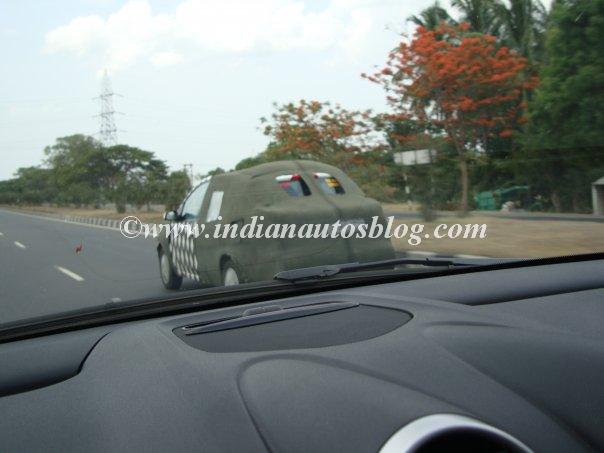 This is a muddy pic and you have to understand that the boot on this car is fake.
Sent in by our reader Naeem Khan, who said it was caught on the highway near the plant, Ford's new small car will be made public at the Frankfurt Show in September.
The vehicle will come in petrol and diesel variants, the former is a 1.2-liter engine while the latter is a 1.4-liter 68hp engine.
Facts about Ford's new small car
- Codenamed B517, it is stationed on a phased out Ford Fiesta platform which saved Ford development cost and time. Ford worked for the past 19 months, and test mules have been spotted in Europe, India and Australia.
- Over 300 prototypes have been sent around the world.
- The car will be manufactured in India and will take on the Swift, i20, Indica Vista. There will also be a variant that will take on the Spark and Alto.
- Ford's new small car will compete against Peugeot 206 and Renault Clio on the European playing field.
- The entry-level car should cost around $7,500 in India.
- The base model will do with A.C and power steering.
- It will share minor components with the Fiesta like door handles and A.C vent.