The 2012 Toyota Camry has been teased by President Akio Toyoda and it is now time for a youtube user, who has had a first hand look at the car, to do the same.
This video was uploaded on July 1st and it looks like a preview of a new Camry to a large gathering (American Toyota dealers?). The video is taken at a good distance from the stage where three new Camrys roll in (2 petrol and a hybrid variant).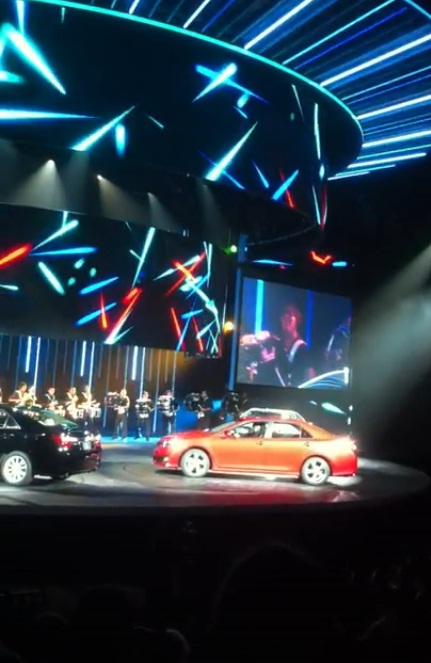 As the cars roll in Katy Perry's "Firework" song, that climbed to the top of the billboards late last year, is played in the background. This is one more reason to believe that this indeed is the 2012 edition.
Toyota executives held a meeting with 1,223 Toyota dealers in Las Vegas last Wednesday where it was revealed that a massive media campaign will be used as part of the new Camry's launch. Up to 40 commercials of the new Camry will be aired on TV.
We're still unsure where the video was captured by last week but on close inspection, we can promise you that this is an unseen Camry. Toyota, in a press release issued after the close of the dealer event said the Camry was "designed to meet the changing needs of the 21st Century driver, the new Camry will provide technologically advanced features, a contemporary design inside and out, improved performance and refined ride and handling."
The Camry is America's best selling sedan and with this new model that has tail lamps inspired from the Accord and boomerang fog lamps is fighting to regain full customer confidence. In India, the new Camry is expected in mid-2012 and will continue operating through the CBU route.
Toyota Kirloskar Motor official to Indian Autos Blog recently -
We are not going to be very aggressive in premium segment as of now strategically as unless you produce cars in India they are not competitive. Our focus as of now is to establish Etios brand and make a good, respectable position in B Segment. We don't do two things together. The next two years, 2011, 2012, will be dedicated on Etios. We will continue to import when the new model comes in. When the model changes we cannot import the old Camry. We will start getting new Camry from second quarter of next year. If we place the order in April, we will get it (in India) in the middle of 2012.
[Source - Youtube.com]