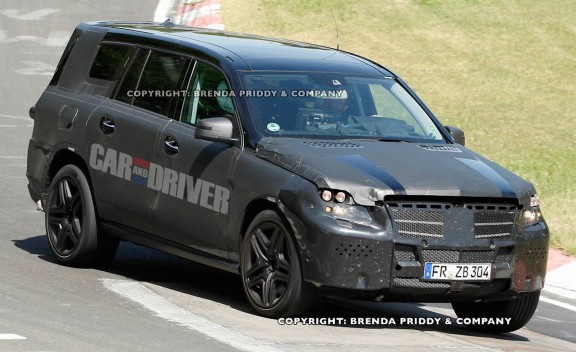 Constant developments are a part of Mercedes's philosophy. The company works simultaneously on the future models on multiple products in its portfolio. Earlier we brought you a brochure scan of the Mercedes ML-Class and spyshots of it being tested in Germany. Now, we have its big daddy – the 7-seat 2012 GL-Class caught on cam at the Nürburgring.
The test mule is draped in a good amount of camouflage so details are hard to come by. But CarandDriver reports that the car will feature a rising beltline, blunt nose, larger windows, and a sloped stop light. The car is not expected to get any larger because it already quite a large vehicle only second to the R-Class MPV.
It is expected to be powered by the same 3.0-liter turbo-diesel V-6, which makes 210 hp and 400 lb-ft only the engine may get more fuel efficient. A hybrid also is likely down the road. The SUV is expected to debut early next year
Mercedes hasn't been able to capture the fancy of the luxury SUV buyers in India. BMW and Audi still dominate this particular territory. Hopefully, with the all-new ML-Class and the GL-Class, Mercedes India will start climbing back to the top position.
Source - CarAndDriver.com