Will be based on the Volkswagen Group's MQB platform.
Skoda confirmed last week that it will launch a new crossover this year. Reports say that it will available in two versions - short wheelbase 5-seat and long-wheelbase 7-seat. Previously rumoured to be called 'Skoda Polar' or 'Skoda Snowman', the new crossover is now said to be named Skoda Kodiak (with some calling it the Skoda Kodiaq).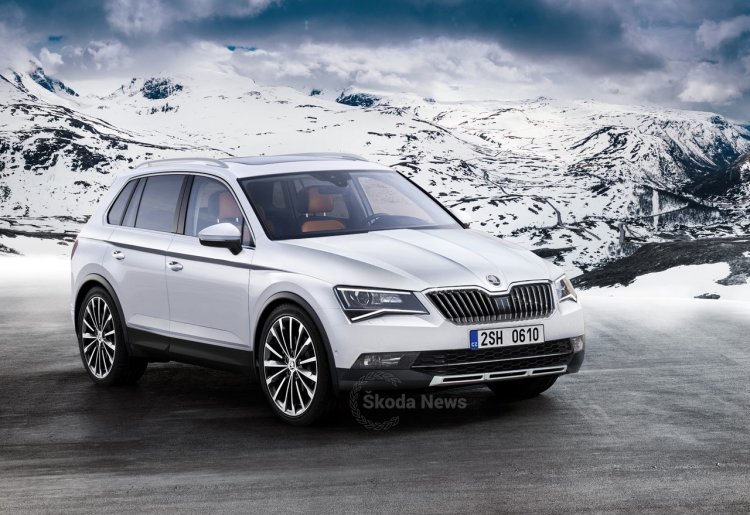 A new rendering from Skoda News previews how the 5-seat Skoda Kodiak may look like. It's unknown which version will be arriving first, but it was reported last month that the 7-seat version will be unveiled at the 2016 Paris Motor Show in October and start reaching dealerships in first markets at the end of the year.
The 5-seat Skoda Kodiak and 7-seat Skoda Kodiak will serve as more economical alternatives to the VW Tiguan and the upcoming VW Tiguan XL (name unconfirmed) respectively. Both will be based on the Volkswagen Group's MQB modular platform, and likely be offered with the a variety of TSI turbocharged petrol and TDI diesel engines with displacements ranging from 1.4-litre to 2.0-litre. Word out there is that a diesel-electric variant will be offered as well. Transmission choices should include 6-speed manual, 6-speed DSG automatic and 7-speed DSG automatic. Front-wheel drive should be a standard drivetrain configuration, with all-wheel drive being available on moving up the range. Also Read: Skoda Octavia RS with AWD unveiled – IAB Report
The Skoda Kodiak should come feature-packed with premium features like bi-xenon headlights, LED daytime running lights, LED taillights, panoramic sunroof, electric tailgate, Columbus and other infotainment systems based on Volkswagen Group's MIB technology (Modularer Infotainment-Baukasten) with satellite navigation and Apple CarPlay and Android Auto compatibility and Canton sound system.
The VW Tiguan has already been confirmed for India, and group company Skoda Auto India could consider the Kodiak as a potential offering in the SUV segment.
[Source: Skoda News]