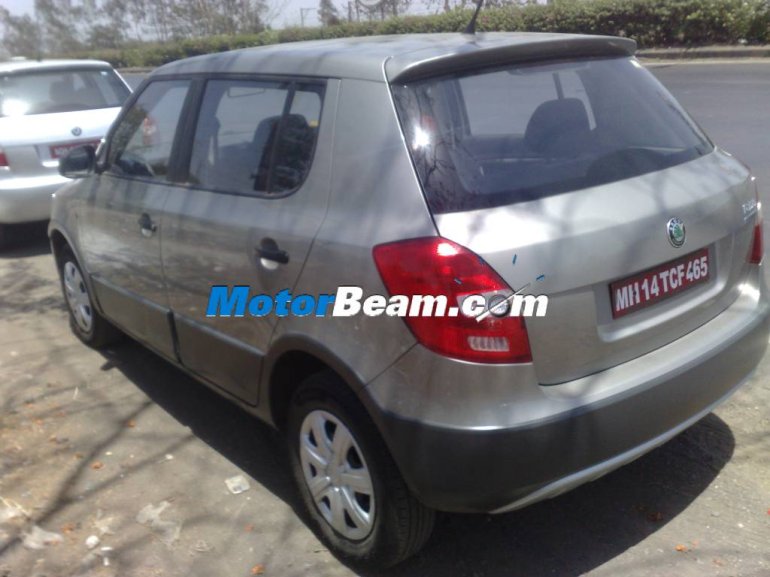 After two launches in quick succession from VW, the sister concern Skoda is ready to create some waves itself. Recently, out of no where, we saw the spy pics of the Skoda Rapid being tested near Aurangabad and now MotorBeam has spotted a test mule of the Skoda Scout.
Yesterday, a reader from Kerala wrote to us saying "Skoda Fabia Scout is been testing in India. When I went to the Skoda showroom in Cxxxxxx they had unusual looking Fabia there with temporary-type number plates. My house is near the showroom, I went there to inquire about the mud flaps for my Fabia and unfortunately I forgot the cam. The Scout was full of dirt, maybe it was being driven hard all over the place."
To put in simple words, a Fabia Scout is a normal Fabia with a rough road package. The car spotted had a 1.6L engine and did not have roof rails. Please note, this is not the estate version so don't expect massive boot space.
This brings me to my main question – Do we really need the Skoda Scout? Don't get me wrong – I also love new car launches in the Indian Market but this just seems a bit pointless. And here are my reasons:
• As I have touched upon earlier, this is NOT an estate version. So you don't get any amount of extra boot space over the current Fabia.
• It is nothing but a faux off-roader. It just looks like an offroader but is more of an urban run around.
• Obviously, it has to be priced above the Skoda Fabia. Considering the Fabia price range ends at 6 Lakhs, this has to be greater than or at least equal to 6 lakhs. This puts it in direct competition with upcoming Skoda Rapid. Why would Skoda want an internal rival?
• A little bit of extra ground clearance is always good on the Indian roads but I have driven the current Skoda Fabia and I found it quite comfortable tackling the bumps and potholes.
• Fiat India has already tried this segment of the market with the Palio Adventure. The Adventure was the estate version with the faux off-road package. Personally, I have only seen 2 adventures on the road till date.
• The current Fabia is an excellent machine when it comes to handling. Making it taller may mess the handling of the current hatchback.
• I doubt Skoda will debut it with a 4 wheel drive but if it does, expect the fuel economy to go for a toss.
• When it comes to design, it lacks the quintessential brashness that an SUV should have. It just looks like a Fabia that has taken a shot of steroids.
I believe Skoda-India should completely focus on the Rapid at this point of time. The Rapid can turn heads of Skoda and may be even fortunes. I am not saying the Scout will not sell at all, but at this point of time the Rapid deserves full attention from the company.
Do you think we need the Fabia Scout?
Spyshot source - Motorbeam.com