It might be hard to believe for some, but the vehicle in the photographs is a Royal Enfield and a very maintained one. It's called the Mofa, and it first rolled on the Indian roads back in the 1980s. This particular motorcycle belongs to one of our friends and readers, R Deena Dayalan, a resident of Mysore – a huge shout out to him for sharing the images and specs of the Royal Enfield Mofa.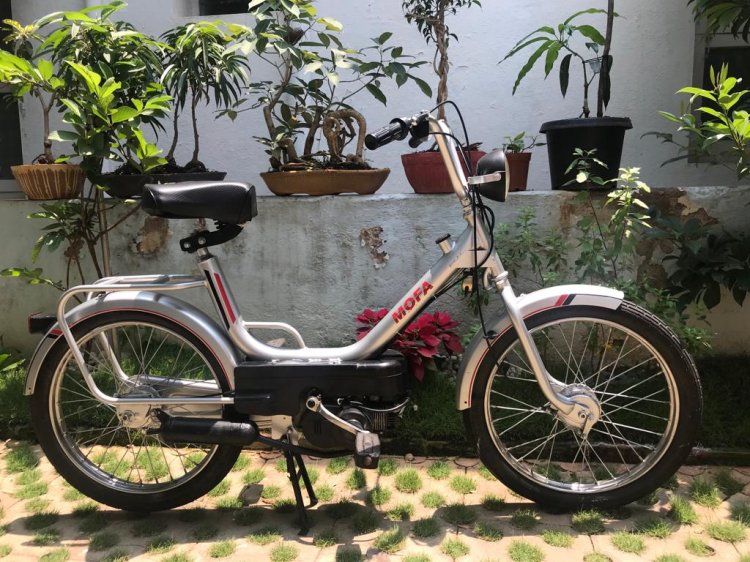 Also read: Grid7 Customs reveals performance exhaust for the Royal Enfield Interceptor 650
The Royal Enfield Mofa used a 22cc, two-stroke, single-cylinder, air-cooled engine that delivered a modest 0.8 bhp of maximum power. That isn't a lot of horsepowers, but the vehicle weighed just 30 kg and could carry a payload of 80 kg.
The fuel tank capacity isn't great either. In fact, it can carry a maximum of 1.45 litre of fuel at once. However, the claimed fuel economy of 90 km/l ensured that the range between refills isn't too short. The 0.8 bhp motor could propel the Mofa bike to a top speed of 30 km/h. Even if the rider ran out of fuel, he could pedal his way to his destination, or the closest fuel bunk, without having to push the vehicle.
The suspension setup is non-existent, and the only solace against uneven surfaces is a single spring that is installed under the rider seat. However, while a suspension setup is missing, the Mofa did come equipped with a headlight to illuminate the path after dark.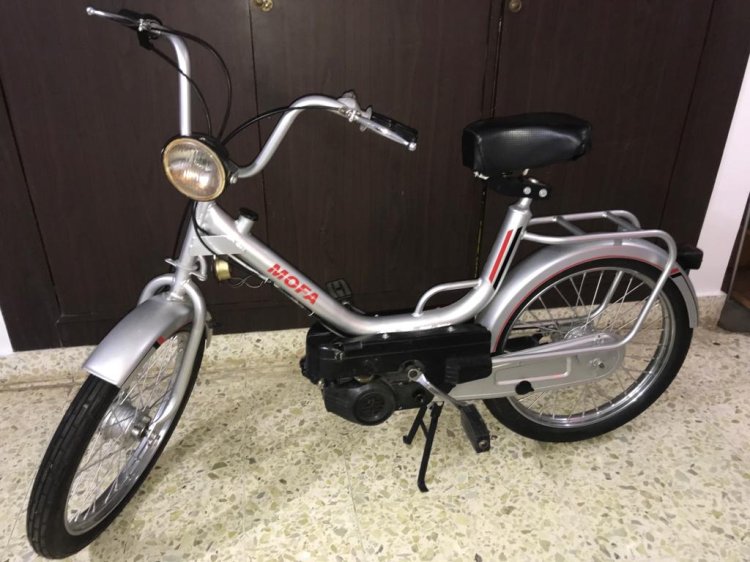 Also read: Discarded Royal Enfield Classic 350 Restored, Looks Better than Stock
The silver-coloured vehicle in the photographs features black and red graphics on the front and rear fenders, and on the pipe under the seat. Mofa branding is there on the fuel tank while a filler cap can be seen right behind the handlebar. A little exhaust can also be seen next to the rear wheel on the right side of the vehicle. Stopping power came from drum brakes on both ends. The saddle is followed by some space to carry luggage. The rear fender that features a reflector follows the luggage rack.
The Royal Enfield Mofa seen here is in fantastic condition and has been maintained well by our friend. Would you like to see your well-maintained/restored retro bike or scooter on one of the biggest motoring portals in the country? Send us an email at support@indianautosblog.com, and if it is appealing enough, we will feature it!