For the last few months months, there has been numerous media speculations that Renault is working on a pickup version of the Renault Duster for select markets.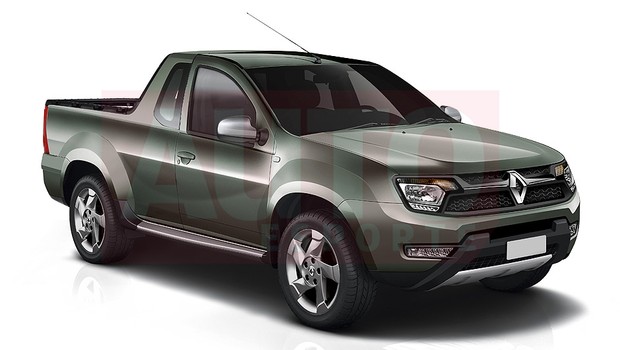 We even brought you a rendering of the Duster pickup to give you an idea of how it would look. While one part of the international media strongly believed that the Duster pickup is in the pipeline, the rest expected the new Logan to spawn a pickup variant, like its predecessor.
Leading Brazilian auto magazine Auto Esporte reports that a pickup variant will indeed be based on the Duster. The website also presents us the rendering of the pickup with a facelifted front fascia, because by the time the Duster pickup enters the market sometime in early 2015, the Duster would have got the facelift.
The Duster pickup borrows headlamps, grill and chin from the Duster DCross concept showcased at the Sao Paulo Motor Show last October. The cab has a quarter glass, a design element carried over from the old Logan pickup.
The pickup version is expected to sport a strengthened suspension in order to have a decent payload rating. The Duster pickup is likely to be positioned above the best selling Fiat Strada in Brazil as a more premium alternative.
Renault is unlikely to launch the Duster pickup in India, however if RHD markets like South Africa and Indonesia demand the pickup, it can be made in Renault's Indian facility since it is the only place where Renault builds RHD Duster and also a place where it is localized completely. Just saying.
[Source: Revistaautoesporte.com]