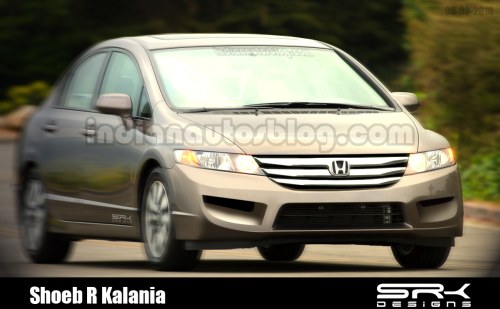 Shoeb's not worried too much with the body structure as it is reportedly identical
Reports are already out on the Japanese media concerning the next generation Civic (ninth generation) that premieres as a 2012 model year car in September 2011. Honda will adhere to the existing strategy of having more than one version of the Civic internationally.
The European markets will get the upgrade to the hatch, while markets like ours will have the sedan replacement, which is being examined here.
A report on a Japanese magazine discusses the smaller dimensions of the new model, which is codenamed 2HC. Due to excise benefits for thinner cars in Japan, the Civic's width reduction brings it down to 1695 mm. The overall shape and construction of the new Civic will not be an extreme departure from the current model, quite like the 2011 Suzuki Swift which retains its shape. There is no mention of a diesel heart but we assume Honda will introduce a small and efficient diesel which should be a good answer to Toyota's Corolla diesel.
As usual, the Civic will also get a hybrid powertrain. This is the same powertrain used on the Honda CR-Z - a 1.5-liter gasoline engine is paired to Honda's Integrated Motor Assist. The hybrid can be bought either as a manual or an automatic variant.
Next Generation Honda Civic hi-res image