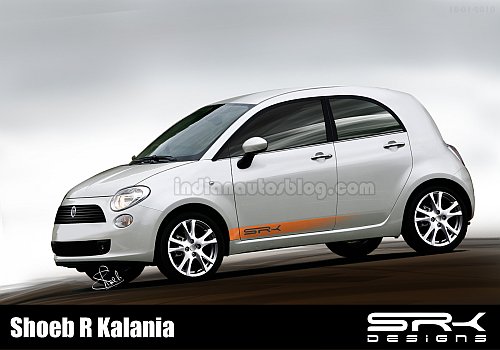 SRK's version of the compact car hints at heavy dependence on existing models
Scheduled for a 2012 release, Fiat's new small car will be placed under the Palio in the company's Indian portfolio. It could be the company's entry-level car in other markets.
While we don't know about the platform and if Tata will utilize the mechanicals for their cars, we do know that the car will be compact and styled in Italy. Fiat India CEO Mr.Rajeev Kapoor told IAB during the Auto Expo that the designs of this small car were yet to be finalized. He did not  divulge any information on the model letting us speculate as much as we could!
Another interesting development is the introduction of the 2-cylinder engine by Fiat at the on-going Geneva Motor Show. The 900cc 8V Twin-Air engine will also be offered in the naturally aspirated form. Producing 64bhp, it looks like an apt motor for the new small car.
2012 Fiat new small car hi-res image