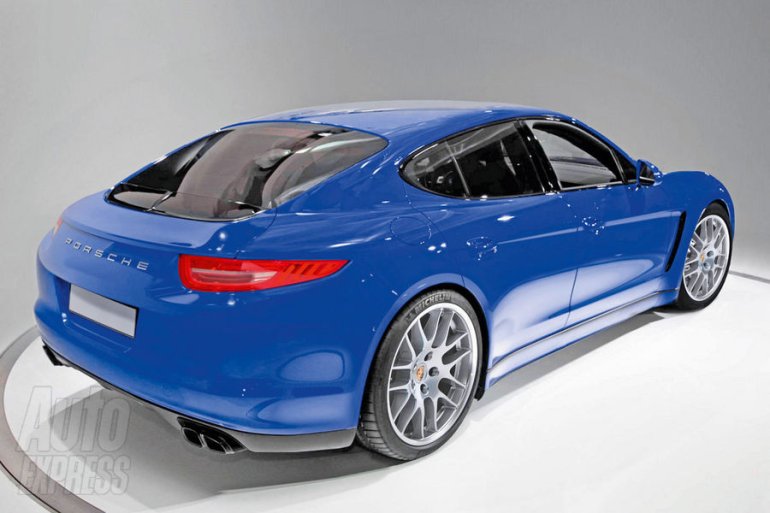 We are quite excited about the baby Panamera that Porsche is bringing out in the second half of the decade to challenge the Audi A6, Mercedes E-Class and BMW 5 Series. Essentially, it is a smaller, shorter, performance oriented sedan based on the Panamera platform.
Today Autoexpress.co.uk present to us a special rendering of the future Pajun.
The insiders refer to the Pajun as a '911 with a big boot'. Both Audi and Porsche are collectively working on this project. As mentioned earlier, it will be based on a trimmed version of the next gen Panamera platform. The styling will be a mix of Panamera and 911 while much of the design features remain true to the Panamera.
Just like the Panamera, the Pajun engineers are aiming for a razor sharp four door sedan that will be the best handling car in the segment. At the same time, Porsche want utmost practicality from the Pajun.
Since the Pajun is a smaller model, Porsche may leave out the V8 engine and use only V6. The Pajun will be offered in both petrol and diesel range.
A 3.0-litre V6 diesel with 310bhp will be the diesel option.
The petrol lineup will be comprised by a 3.0-litre V6 bi-turbo with 414bhp. The same engine with a single-turbo will also be on offer with 318bhp. The latter will also be available in a plug-in hybrid model that will deliver an extra 100bhp.
A seven-speed manual gearbox or a dual-clutch PDK system will send power to the front or all four wheels.
The Pajun is likely to debut in 2016 with a price tag of GBP 50,000 (around 40 lakhs). Looking at Porsche's aggressive plan for India, the Pajun is the brand's trump card for its price, size and positioning.
[Source: AutoExpress.co.uk]