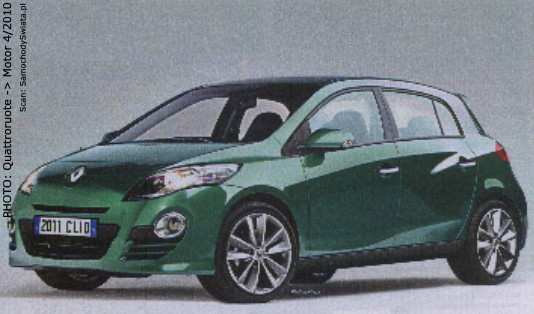 The 2012 Renault Clio uses the Nissan V-Platform
Here's another artist representation of the upcoming Renault Clio, which according to reports, will be manufactured at the company's recently inaugurated facility in Chennai starting 2012.
The Renault Clio (see leaked images of clay model) will make use of the Nissan V-Platform and probably the same 1.2-liter 3-cylinder petrol engine. The car could be smaller than the Nissan Micra and Renault will follow Nissan's strategy with its small car - made in India, but for the world.
It is not new for car makers to use the same platform for multiple brands. The VW Polo and the Skoda Fabia are based on a similar platform, the next generation Indica and Fiat Punto would use the same platform. Platform sharing has occurred between two car manufacturers who otherwise aren't in a partnership. Like the Fiat 500 which shares its underpinnings with the new Ford Ka.