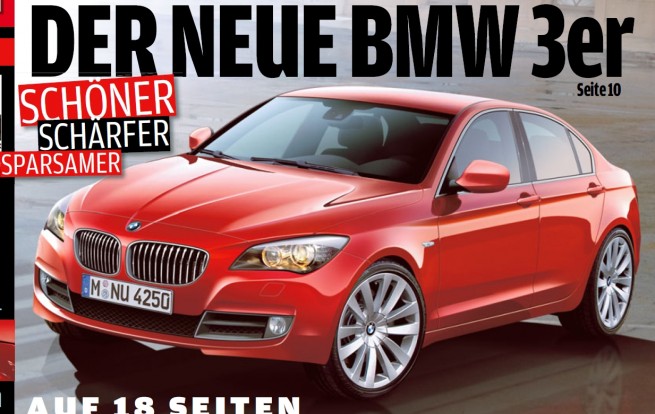 A German automag tried to improvise on Teknikensvarld's (try pronouncing it) 2012 BMW 3 series renderings released a couple of months back and this is what they came up with - Der Neue BMW 3er.
Firstly its sharp. Then you might notice the large kidney grille like in the new 7 Series (Germans pronounce it 7 Serious, I don't know why) and 5 Series renderings, you can blame Adrian van Hooydonk for that. The large grille is said to render the new Beemers some family resemblance.
The 3 Series proportions are left intact, but there is no dearth of continuous lines protruding out of the car. For instance, the surface line wrapping around the entire car. It starts form the front headlamps, travels through the door handles giving the car a broad shoulder, running all the way till the the rear quarterlight. Then there is the V shaped crease on the face that contains the grille, very 3 series-ish.
We hear that the rear of the car will retain the L shape lights, but would propagate the car's shoulder line to the bootlid. Some 7 series resemblance is expected here as well.
The next BMW 3 Series will feature the very latest in Efficient Dynamics technologies. A Hybrid variant that uses the range's extended 3 cylinder engine coupled to an electric motor will also be sold.
Other most probable additions include lightweight resistance tires, aerodynamically designed alloy wheels, BMW active aerodynamics, solar roof panel for extra energy efficiency, Brake energy regeneration, stop start technology, engine pre-heating technology etc.