After compact SUVs and MPVs, it's time for compact pickups.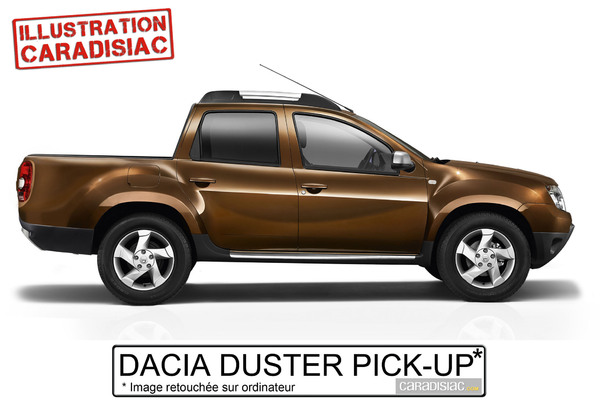 Dacia is reportedly planning to have a pickup version of their best selling compact crossover SUV, the Duster. The Duster Pickup will succeed the old Logan Pickup which is no longer available in France.
Seen here is a rendering of the pickup from caradisiac.com. The Duster Pickup will be visually similar to the regular car till the B-pillar. The rear overhang of the car is said to be extended by 20 cm to provide a decent volume for the loading bay.
There is also a single cab version planned which will have a longer loading bay. Both the variants will be equipped with satellite navigation as standard fitment while the high end models will get Renault's R-Link touch screen multimedia system.
The Pickups will be powered by a 1.6 litre petrol engine which develops 105 bhp and the 1.5 litre K9K diesel engine. The former also has a bifuel version for some markets like Brazil while the latter is available in two states of tune - 90 bhp and 110 bhp - just like the Indian Renault Duster.
The Dacia Duster Pickup will be available in both two wheel and all wheel drive versions and is expected to be launched in 2014.
The Duster-based pickup can be launched in India, but we doubt if Renault will be able to match the price of the Genio or the Tata 207, as selling it as a lifestyle product is not a viable business proposition. Manufacturing the RHD version of the pickup truck at the Chennai factory, either as a Renault or as a Nissan, for the export markets, is not unfathomable.
[Source: Caradasiac.com]