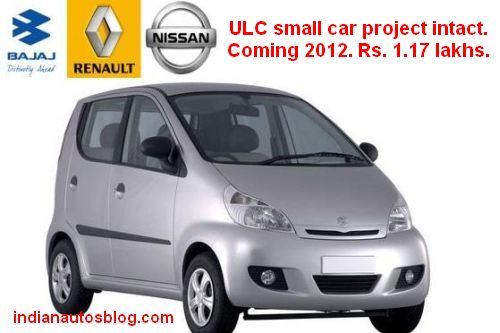 Renault-Nissan has announced that it has signed a pact with Indian bike maker Bajaj on Thursday, 8 July 2010 for developing a small car (the Ultra Low Cost- ULC car). This announcement from Renault-Nissan has put an end to all the rumors about the ULC small car project being dropped due to a rift between the two companies.
We had reported yesterday that there wouldn't be a joint venture between Renault-Nissan and Bajaj on this front but it wold be more like a MoU bet ween the two companies. It would be more like an OEM agreement.

While Bajaj would be in charge of designing, developing and manufacturing the ULC small car, Renault-Nissan would take care of branding, marketing and distribution. Renault-Nissan would also be exporting the car to other developing countries once the car is launched in India.
The Renault-Nissan-Bajaj small car would hit the market sometime in 2012 and could be priced at 1.17 lakh Indian Rupees (US$ 2,500). The ULC small car would be pitted against the Tata Nano.

Nissan is charting out aggressive plans for India and wouldn't let the ULC small car project go down the drains. The Nissan Micra has received more than 1,500 bookings till now and this is a very good sign for the Japanese car maker in India. Nissan is also planning to develop a Maruti Alto rival jointly with Ashok Leyland in Chennai.
Source: ET