Renault Kwid 1.0 to launch on August 22.
Renault India has revealed the specification and launch date of the Renault Kwid 1.0 during its media test drive. Here's how it compares against the Maruti Alto K10 and Hyundai Eon 1L.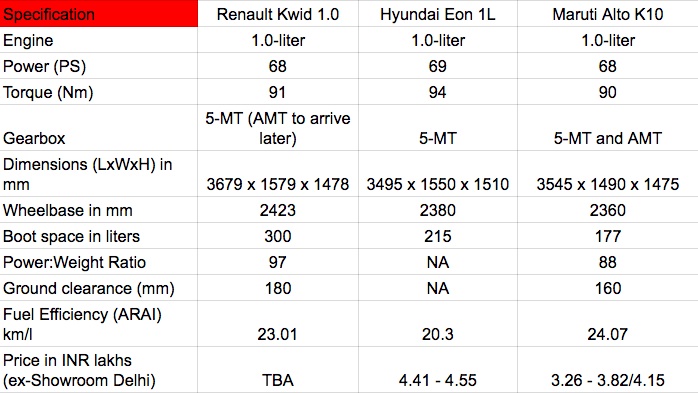 A quick glance is enough to tell that the Renault Kwid is the biggest and most practical option of the range. Not only does its bigger size and SUV-esque styling bestow a tough look, but the 300L boot volume and various storage areas around its cabin make the Kwid a practical option as well.
The highlight is its all new 1.0L three cylinder SCe petrol engine, which outputs 68 PS and 91 Nm of torque. The output figures are similar to its rivals, but the Kwid has a better power-to-weight ratio, thanks to the ligher kerb weight. However, its average fuel efficiency falls short of the Maruti Alto K10, but is nonetheless a respectable figure for a petrol-powered hatchback.
Also Read: India-bound Renault Kaptur compact SUV spied uncamouflaged in Brazil
For certain differentiation with the less powerful Kwid 0.8, the Kwid 1L features a black and white chequered decal with a '1.0' lettering on the lower portion of its side profile and silver ORVM caps. Otherwise, everything else is identical to the model currently sold.