Yet again, a fleet of Renault Duster test mules was spotted on the streets on Chennai by IndianAutosBlog.com reader Kaushik KR with one of them scantily camouflaged.
The last time the Duster was spotted in Chennai was by our reader Bairesh Raj who explained that the road presence of this animal, despite its lines and curves cloaked, is something different.
The Duster has been shown in India already (at the 2012 Delhi Auto Expo) and the market introduction is later this year. The Duster's first and foremost rival is the Ford EcoSport, the testing of which has also begun in Chennai.
Tarzan vs Paris Hilton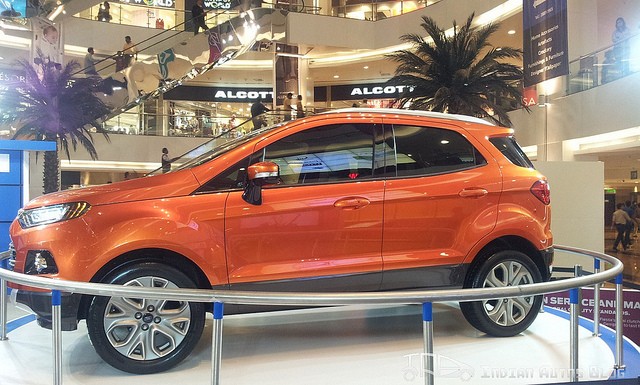 The Duster has an outdoor look without trying too hard. It does not need a visible spare wheel, body fittings or special paintwork to show its adventurous nature. The high ground clearance, massive wheel arches and power bulges have worked to make Duster a success story in Europe.
The EcoSport (on the left)  is an urban SUV designed by people who use iPhones, trust the satellite navigation to leave home and use Twitter and Facebook to invite friends over for dinner. The Duster's on the other end of this scale,  like it took shape in a jungle and hunts its own food. Its a face of between Paris Hilton and Tarzan - who'll win this battle?
Unlike the European Duster which gets the 1.6-liter engine, India gets the 1.5-liter petrol and diesel engine lifted straight from the Sunny. Expect a price tag of 7-9 lakhs when this car is launched in the second half of this year.