Will hit the international markets in 2018.
As the next-gen Toyota Supra's development continues in Europe, an engineering mule of the car has appeared in spy shots yet again. Autoplus.fr reader Yves C recently spotted the next-gen Toyota Supra in Eygalieres, France.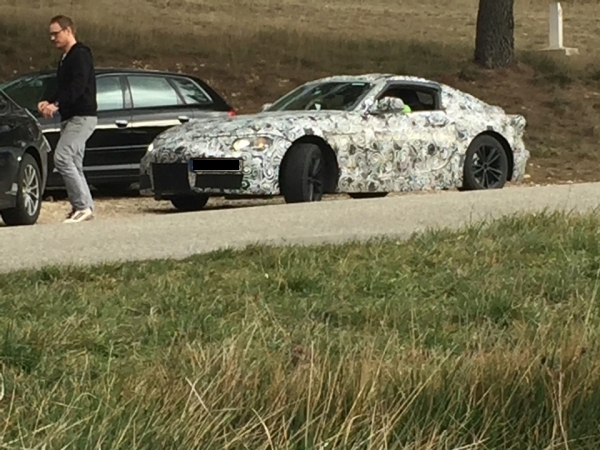 The 2018 Toyota Supra currently in the works is the fifth generation model of the iconic sports car. The first 21st century Toyota Supra is a joint project between Toyota and BMW, with the latter benefitting from the collaboration with the Japanese automaker's input in the next-gen BMW Z4/BMW Z5. Toyota previewed this future model by the Toyota FT-1 concept at the 2014 North American International Auto Show.
The next-gen Toyota Supra will sit on the same platform as the next-gen BMW Z4/BMW Z5. Engineered by BMW, the new platform has components from the current BMW 3 Series as well as its high-performance derivatives, including the BMW M3 and BMW M4. It will support rear-wheel drive and four-wheel drive drivetrain layouts. Toyota 86 chief engineer Tetsuya Tada is overseeing the car's development.
The 2018 Toyota Supra is said to sport powertrains developed in-house. The base model would get a 2.0-litre turbocharged engine in two different tunes: around 242 bhp and nearly 300 bhp. Those will for even better performance will a range-topping option for a 3.5-litre twin-turbo V6 engine that will deliver more than 400 bhp. A hybrid variant is also planned - it is expected to consist of a 3.5-litre V6 engine and an electric motor, with power being sent to the wheels via an 8-speed automatic transmission. The hybrid model should offer more than 350 bhp on tap.
Also Read: New Nissan Z & Toyota Supra concepts to be shown in Tokyo
The next-gen Toyota Supra will roll-out of Magna Steyr's plant in Graz, Austria beginning in 2018. Manufacturing of the next-gen BMW Z4/BMW Z5 will take place at the same facility.
[Image Source: Autoplus.fr]