Spy photographers of Autoblog Argentina have snapped images of the 2012 Audi A3. What's the Indian connection? You'll see the sedan version at an Audi India dealership in the next two years.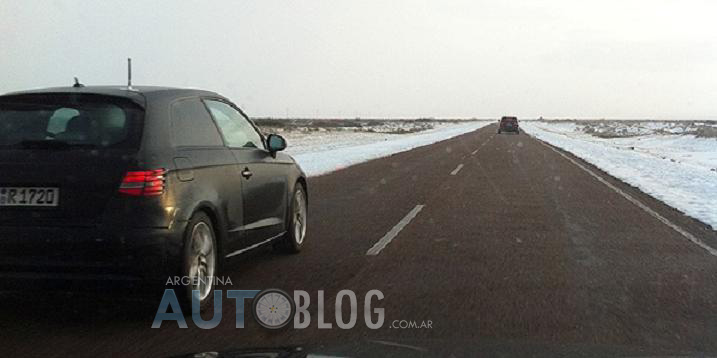 When the A3 sedan concept was unveiled in Geneva a few months back, it was asking to be speculated on. Audi India wants to bag volumes and the two vehicles that will get them there are A3 sedan and the Q3 crossover.
Audi can bring the A1 (read VW Polo in an Audi dress) to India with the TSI engine and pack it with features, but confusion on whether to assemble it here (can they sell enough to justify the investment given this is a souped up Polo?) or import it (higher duties means this, like the Beetle, will sell not more than 250-300 units a year) means taking some brave decisions.
Instead a sedan and crossover, posing as mini replicas of the A6 and Q7, will not give Audi any mountains to climb. If they join the existing series, the brand pull will give them a more friendly ecosystem in the Indian market.
Caught on Route 40, between San Rafael and El Sosneado in Argentina, the A3 hatch is in its preliminary stages of testing and understandably is masked in heavy camouflage. But there's no revolutionary departure in styling. Just have a look at the new A6 and scale it down to derive the A3's front and side profile.
We might sound like a damaged tape recorder while laying down powertrain details - the 2.0-liter TDI lifted straight out of the Passat paired to a seven-speed DSG will be our recommendation. If Audi wants to hit the segment harder, it can re-tune the Polo sedan's 1.6 TDI and marry it to the 6-speed transmission. Can they bring this Audi down to a magical 20 lakh rupees mark? Will the VW Group hierarchy let them to do so?
The A3 sedan will be slightly larger than the currently running model (4,285 mm x 1,765 mm x 1,420 mm for the current A3 hatchback) with hybrid and electric powertrains rumored to follow the petroleum-fueled models.
[Source - WorldCarFans.com via AutoBlog.com.ar]