What comes to your mind when you think of a Maruti Suzuki Omni? Maybe a dull workhorse that doubled up as a 'kidnapping car' in the 90s Bollywood movies? The Omni remained on sale for close to 30 years straight and managed to find enough buyers in the commercial sectors even towards the end of its career. Famous for its utility prowess, the Maruti Omni was the go-to car for small business owners who needed to transport limited commodities promptly. Now let's have a look at this stunningly modified Omni.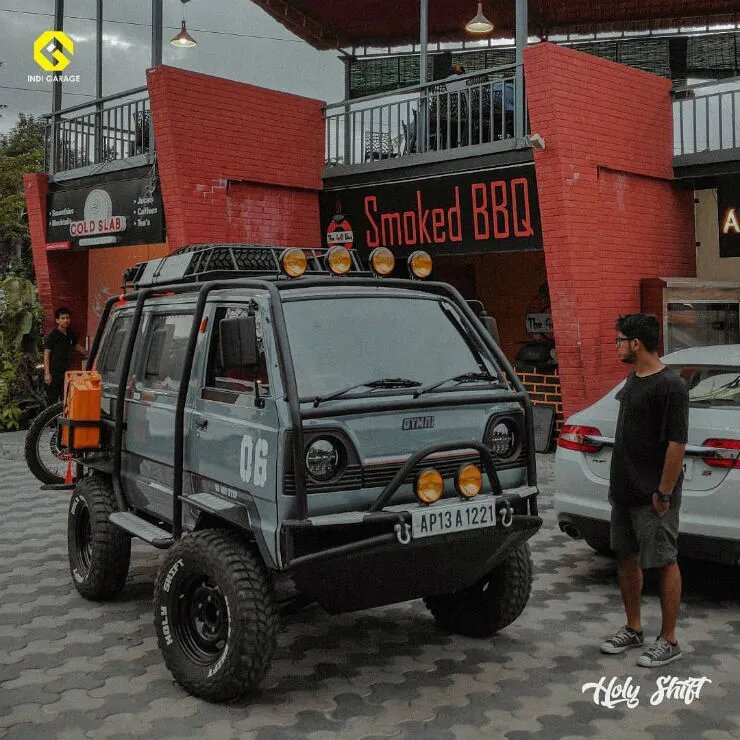 You might have seen it being used as an ambulance, or a pizza delivery vehicle but definitely not as a fully modified off-road beast, and that's exactly what Indi Garage and Holyshift has come up with. Dubbed 'Gymni', the modified Maruti Omni sources a number of parts and components from the Maruti Suzuki Gypsy, which leads to the combination of the Gypsy and Omni nomenclatures.
Also read: Modified Maruti Omni With Scissor Doors And Chunky Body Kit Looks Rad
In fact, the new name even sounds like Jimny (the parent vehicle of the Gypsy. Starting off with its looks, it doesn't merely get a paint job but a host of modifications come along with it. It stands much taller from the ground and comes equipped with bull bars, and an external roll cage. It also gets a rugged looking luggage rack on the top along with off-road-spec rooftop lights and LED headlights.
While it carries the same chassis as the Omni, components like rear differential and engine have been the source from the Gypsy. But unlike the Gypsy, this isn't a 4X4 vehicle but a rear-wheel driven car. The rear off-set differential seen on the Gypsy was tweaked in order to bring it to the centre, and thus transmission tunnel was aligned to the mid-section of the car.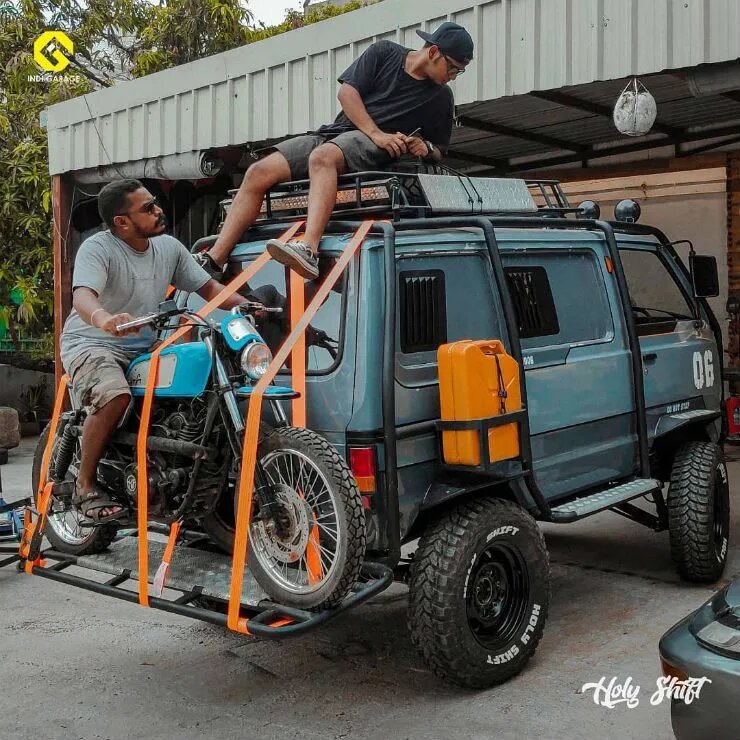 Also Read: After 35 years, Maruti Omni bows out from service - Report
Front and rear tracks were widened and wheel arches were modified to accommodate bigger tyres. Under the hood, it gets the 1.0-litre naturally-aspirated petrol engine from the Gypsy. Do let us know what you think about this hot looking modified Omni in the comment section below.
[Images - Holy Shift]
To read on Maruti Omni, stay tunned on Indianautosblog!