Mercedes-Benz launched their first ever online sales store in Germany on December 3rd.
The website, connection-online.mercedes-benz.com, will retail pre-configured variants of the A, B, CLA and CLS Shooting Brake models. The pilot project is first available in the city of Hamburg, Germany, and in the first quarter of 2014, Warsaw - the capital city of Poland - will be included.
The website offers these models in a pre-configured trim, which means that you cannot add/delete features. Also, while you may get a discount while buying from a dealer, the online store will offer no such direct benefits. Instead, customers get incentives such as a visit to a motor-racing event, or free rental of roof racks for their vacations.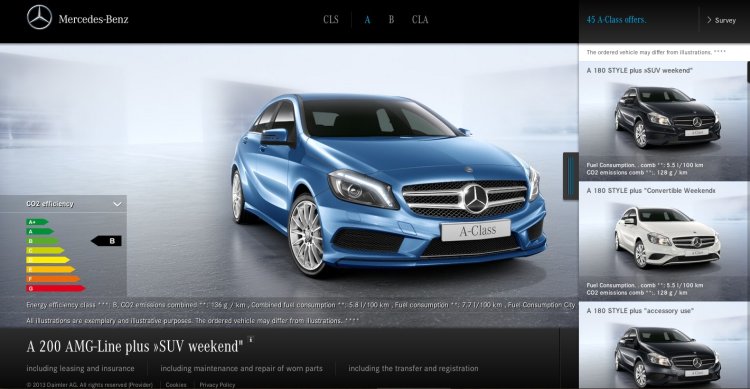 The website as such is pretty easy to use, and it took only a matter of 5 minutes to order an A Class A200 AMG Line. For this model, the website promised a delivery time of less than 14 days, and as a compliment, we were entitled a Mercedes SUV for a weekend with pre-paid insurance and 600 free kilometers.
Mercedes makes it quite clear that this move is aimed at the younger audience who would rather prefer to order their car from the convenience of their home. Hence, the models and variants that are available are also carefully chosen such that they attract the targeted audience profile (models such as the C, E, and S Class are not part of this initiative).
In India, Skoda offers a similar facility wherein customers can book their cars online.