If you thought that the ever-expanding SUV market was inviting attention from players who are already present in India, think again. Thanks to our good friend and big fan Wajid Jafry, we're able to bring you spyshots of the Mazda CX-5 testing on the NH8 in Gurgaon that opens up some new possibilities.
This is the second time Indian Autos Blog is bringing readers the first pictures of a foreign car maker testing cars for the first time in India. We were the first to snap the Picanto (Kia) late last year.
Have I heard of Mazda before?
Currently Mazda is present in India using its line of trucks and buses that are manufactured through a joint venture with Swaraj, a tractor manufacturer based out of North India.
Why is the Mazda here?
Obviously there is no Mazda in India and this mule could be on a global endurance test. Sometime auto makers bring their cars to India and test out in our conditions as part of global testing programs. I can show you pictures of the Renault Modus and a European Honda Accord testing in India, which weren't launched here.
There is a talk of Mazda entering India, but when and how we don't know. Mazda is currently in a cash crunch situation, if they want to invest here, they better succeed. Mazda can form a partnership to reduce investment. They are good friends with Ford with who they share platforms and cars.
Is this even a test mule?
Indeed it is. Don't let the registration plate misguide you. Mazda have taped the emblem and stripped the car of all the variants and nomenclatures.
The windows have been tinted, but Wajid peeked to see testing equipment, laptops and wires scattered around the cabin. He noted that the testers were not Indians.
What is the Mazda CX-5?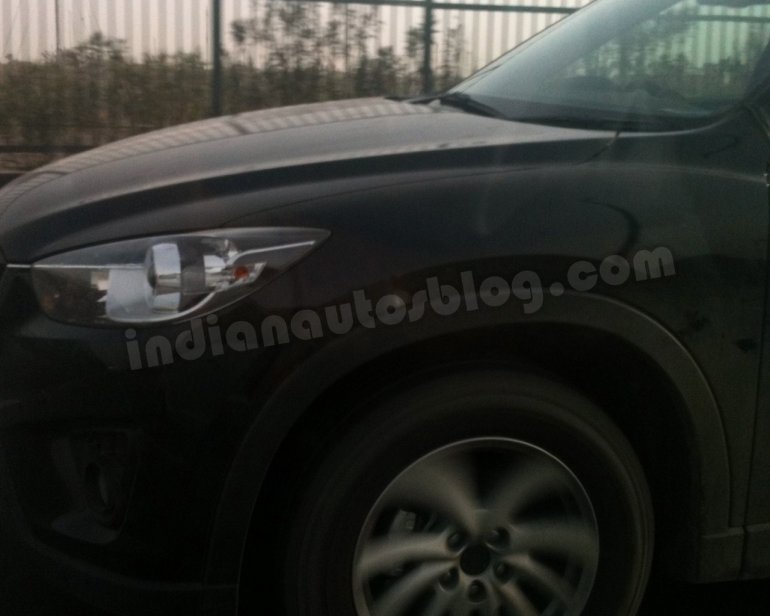 The CX-5 is a 5 seat crossover featuring Mazda's new Kodo design language (Soul of Motion, which incidentally is inspired by the stance of a crouching Cheetah!) and is a short wheelbase variant of the CX-7 SUV.
It is powered by a SKYACTIV 2.0 liter engine producing 155 hp and 203 Nm of torque. The crucial powertrain if there's an Indian entry is the SKYACTIV 2.2 liter diesel featuring a two-stage turbocharged diesel producing 147 bhp and 380 Nm or 173 bhp and 420 Nm. The engines can be paired to a 6-speed manual or a 6-speed AT.
In Japan, the CX-5 did eight times the expected numbers when it was launched back in February this year, thanks to the clean diesel engine, that accounted for 7.5/10 cars sold.
Bluetooth phone connectivity and iPod audio playback are some of the features that will tick boxes in India.
Mazda CX-5 exterior
The CX-5 is longer, wider and taller than the Duster and unless it is manufactured locally, there's no chance for it to clock decent numbers, as pricing this car well is very tricky.
We're interested in watching this story develop, so stay with IndianAutosBlog.com.