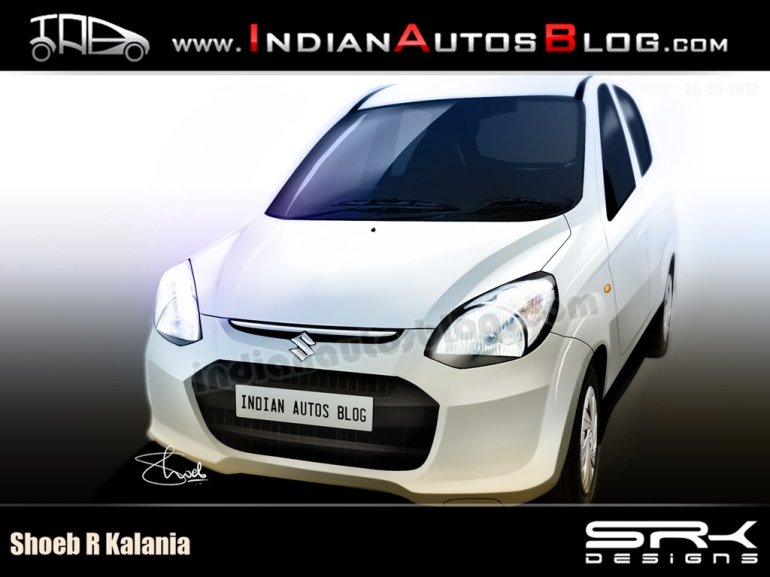 Our onboard graphics specialist Shoeb R Kalania has submitted a rendering of the Maruti 800/Alto replacement spied by OnCars.in yesterday. The alleged 800/Alto replacement is codenamed YE3 and spyshots show that design extracts from the i20, A-Star, Alto and Estilo were tossed into a blender to make a weird concoction.
Unlike Hyundai or Nissan, Maruti is not strict about following a design language. Models can land up at work in the clothes they woke up in.
Maruti Suzuki will not discontinue the Alto K10 but are likely to replace the Alto with the YE3. Production of the Maruti 800 seized last month leaving a whole segment for an incoming model to fill up. Maruti can brand this as the new 800, new Alto or use a different name altogether.
Maruti engineers have been working on the YE3 for some four years now. They started the project knowing that India's small car market would attract every player to participate.
Renault-Nissan is frighteningly serious about the small car market here that it decided to revive a whole brand to compete in this segment. There is competition from Hyundai with the introduction of the Eon, and General Motors is giving the Spark a shot in the arm. We can go on and on talking about the rush of models in the A-Segment and how a diesel engine could make the difference between being a success and a market leader.
The Alto and 800 replacement sits on the Alto platform and according to media reports uses an upgraded version of the Alto's F8D engine. There is very little info available on the upgraded engine though it is puzzling to see Maruti not downsizing the K Series engine to make an 800cc version. Diesel engine option for the YE3 is ruled out unless Maruti sources it from GM India or develops one.
The YE3 does not have any connection to the Cervo sold in Japan. The Cervo is an expensive model that runs shoulders with the Wagon R and manufacturing it for a price of under three lakh rupees is neigh impossible. The Cervo may never come to India as Maruti has to pay huge royalties to Suzuki for selling it in India.