We brought you the news that Suzuki's Indonesian subsidiary has showcased the Maruti Wagon R as the Concept G-II to the Indonesians.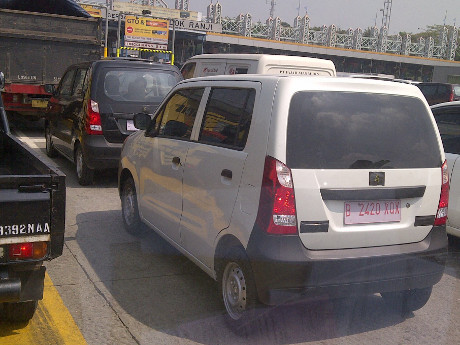 The Concept G-II was previewed as a possible LCGC (Low Cost Green Car) candidate. The LCGC program is an initiative from the Indonesian government to reduce the pollution and congestion levels of the cities and also to promote local production of automobiles.
While the car makers are still waiting for detailed and clear guidelines of the LCGC program, Suzuki has gone ahead and started testing the Wagon R in Indonesia. The fleet of test mules with their badges masked were spotted by Oto.detik.com.
When asked about it, PT Suzuki Indomobil Sales acknowledged that the cars were indeed testing but maintained that it is a part of future product development process. The company also stated that it will divulge more plans regarding the LCGC program once the Indonesian government sets clear rules and regulations for the same.
In order for a car to be eligible for LCGC tax concession, it needs to be compact (the exact dimensional limitations are yet to be announced), should have a small petrol engine which should deliver at least 20 kpl. Cruicially, the car needs to be locally produced.
It appears that Suzuki is keen in taking advantage of the LCGC program with the Wagon R as its preferred weapon. The small hatchback with its frugal 1.0 litre petrol engine is just the right candidate.
[Source: Oto.detik.com]