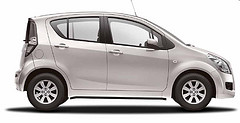 The Maruti Suzuki Ritz Petrol preferred over the diesel one, reports have revealed. According to the dealers only 30% of the Ritz sold till now are the diesel 1.3 ltr and the rest are 1.2 ltr petrol versions.
Generally in this particular segment the sales of the diesel variant is more than the petrol due to a host of reasons, but in the case of the Ritz, it is different.
If we look at the Suzuki Swift sales, the petrol and diesel models are evenly split and sometimes the diesel sales are more then that of the petrol.
Some of the possible reasons for this shift are
The petrol Ritz is significantly cheaper then the diesel. The difference between the prize of Ritz petrol base model ( LXi ) and Ritz diesel base model ( LDi ) is around Rs.83,000.
As compared to Swift petrol and diesel models this difference is only Rs.67,000.
Another probable reason is the Ritz petrol is powered by the new generation KB engine which provides refined performance and better fuel economy.
Also the Ritz petrol, as it is new, should slightly return better numbers then the Swift petrol.
The above are just observations of Autocar India and if you think there's more to it, why not put it down on the comment box below.

Petrol models becoming more popular is the new trend which depicts that the Indian customer is educated in selecting cars and don't look for only low running costs.
The new entrants like the Volkswagen and others should keep that in mind.
Source - Auto Car India
Maruti Suzuki Ritz Image Slideshow
direct link - Maruti Suzuki Ritz Image Gallery