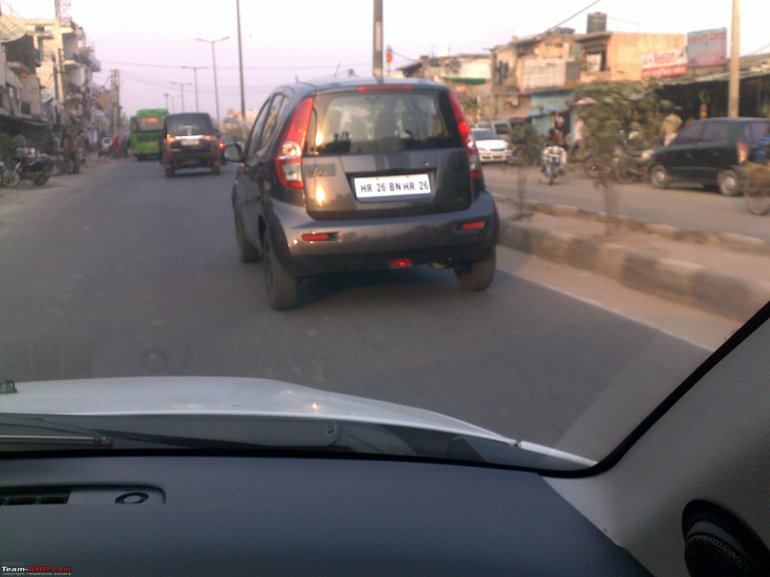 Maruti Suzuki is definitely facing stiff competition from new entrants in the market. In recent years, the company is steadily losing grip on the market although not on an alarming scale.
In a bid to keep the customers walking towards showrooms, the company has started facelifting many of its existing models. Recently, the company took the wraps of a mildly revised A-Star.
Thanks to our pals at TeamBHP, we bring you a spyshot of the Ritz doing testing rounds on the old Gurgoan roads. Although the car is not running on test plates, the badges on the rear are hidden away under light camouflage.
The photographer said the front-end was camouflaged though he couldn't manage a picture.
The Ritz (popularly known as the Splash by our international audience) was first presented to the masses at the 2006 Paris Auto Show. It was launched in India somewhere in early 2009 and is very much due for a facelift. Many of us felt Suzuki would scrap the current Ritz and built one on the new Swift's underpinnings.
We don't expect it to be a comprehensive facelift but just a minor nip and tuck. We do expect the VVT from the Swift to trickle down to the Ritz. A few changes to the interior coupled with some feature add-ons and perhaps an auto box is all we expect from this facelift.
[Source- www.team-bhp.com]