Badge engineering has become so prevalent in the auto industry that many popular cars in the world now have a clone.
The trend is spreading like a wildfire in the recent days since developing a new car from the scratch is too high a cost for an automaker. Due to various reasons badge engineering is considered as the easy way out in bringing a new product.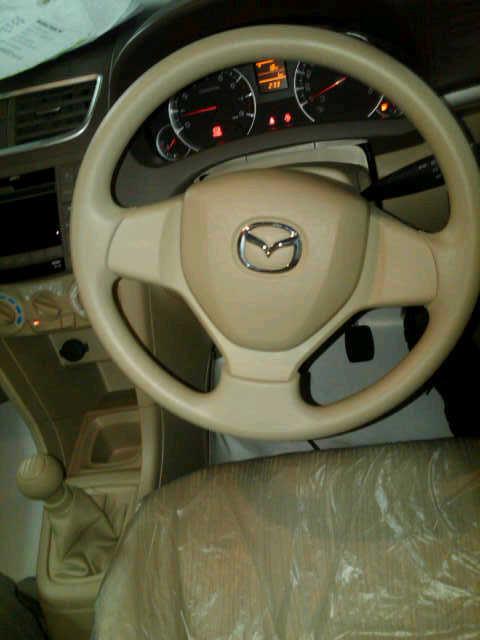 It not only reduces the development costs and time, but also eliminates the need of testing the vehicle, creating new tools or sourcing new components, all of which are huge wallet burners for a car company that has very less cash reserves.
So, in the lines of Renault-Nissan and VW-Skoda, joins a new pair, Suzuki-Mazda. No, Suzuki hasn't bought Mazda or vice versa, but the Japanese car makers apparently joined hands to badge engineer the Suzuki Ertiga for the Indonesian market.
Regular Indian Autos Blog reader Mr. Rakhmat Widya Pratama from Indonesia has tipped us of this new spyshots of the Ertiga from Indonesia which were found at Ertigaclubindonesia.org. The car has nothing new except the Mazda badges suggesting that the car will be re-branded as Mazda for Indonesia and sold alongside the Suzuki version of it.
Mazda calls its rebadged Ertiga as the VX-1 and is most likely to be assembled by Suzuki at its Indonesian plant. Yes, the CKD kits for the Indonesian built Ertiga are being shipped by Maruti.
Mazda sells two MPV models, the 8 and the Biante, in Indonesia in the higher segments. The VX-1 would take them into a lower market segment and compete with the likes of the Ertiga, Avanza and the Xenia.
This is not the first Mazda badged as a Suzuki. The Mazda Carol kei car in Japan is a rebadged JDM Suzuki Alto.
We hope Mazda isn't banking on rebadged products to enter India. If at all there's such a plan, they must have seen how India's given a cold shoulder to rebadged cars that haven't just failed to sustain numbers, but have cannibalized into the original' volumes.
[Source: Ertigaclubindonesia.org]