About a month back, our friends at Oncars.in broke a major story when they released the first spy shots of the Maruti 800 replacement. Now, the jolly blokes at CarDekho have presented a detailed image gallery of the upcoming entry level hatchback destined to shake up the segment.
The car (codenamed YE3) is caught without any camouflage. As one can see from the badging at the back, the new car will be called 'Alto 800.' This hints at the fact that this model replaces the Maruti 800 and could be positioned alongside the old Alto F8D or replace it.
Presently, there are 2 Altos sold in the market – F8D with an 800cc engine and Alto K10 with a 1L K series engine. Maruti can either discontinue the 800 cc Alto or run the 'Alto 800' alongside it.
As we have described earlier, the Alto 800 is a mixed bag of design. The front resembles of the Figo and the rear is more Hyundai i20. Many key design cues have been taken from successful models from different companies to form a smooth cocktail. The design is certainly a welcome change and we will help Maruti Suzuki do what Hyundai managed with the Eon - to offer something different.
We are most certain that the new kid on the block uses the 800 cc engine from the F8D which is BSIV compliant. As one can see that the Alto 800 is slightly more tall boyish than the F8D or the 800, one can expect more headroom from the successor. Integrated headrest are very much visible and so is the all-new dashboard.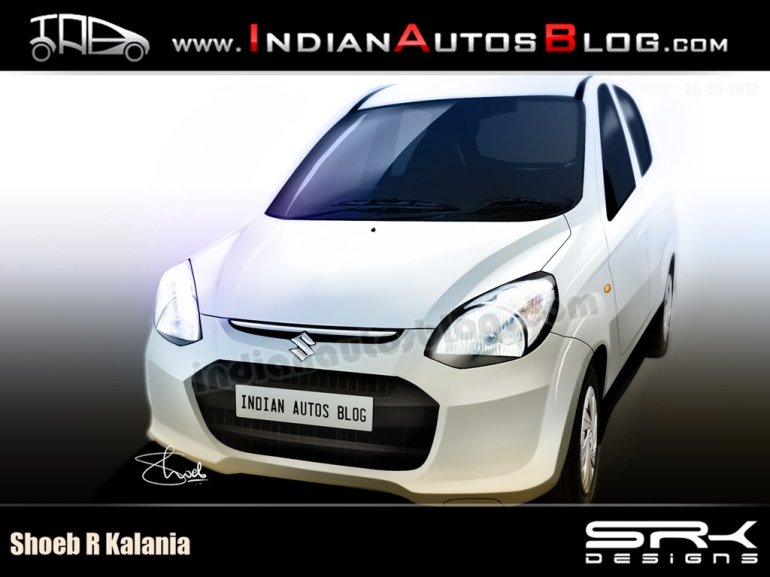 Pricing will be a key for the success of the Alto 800. Maruti Suzuki needs to aggressively price the Alto 800 such that it can capture market share from Eon as well as the Nano. Alternate fuel options such as CNG and LPG will work wonders in today's disturbing petrol prices.
Considering that Tata is bringing a diesel version of the Nano, Maruti Suzuki should start working on a small diesel engine that would fit the Alto 800, A-Star, Estilo and more importantly the Wagon R.
The car looks production ready and all set to hit the showrooms. However, we believe that Maruti Suzuki will wait for the festive season to gain maximum traction.
[Source: Cardekho.com]