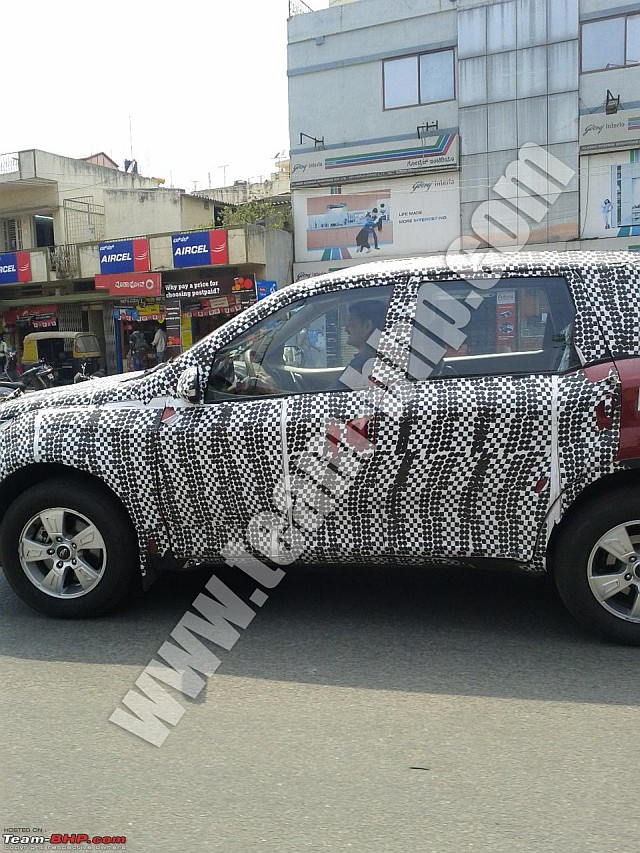 Mahindra's first global SUV received a mind-blowing response from the Indian audience. It was and still is so popular that M&M is not able to keep up with the demand resorting to a lucky draw system for bookings. However, XUV500 was destined to be a Global SUV world-wide ambitions and M&M isn't resting on the success in the domestic market alone.
The company has been publicly talking about its expansion plans in the Europe and US. However, some markets in Europe and the entire US follows a left hand drive (LHD) system. Thus M&M is developing an LHD version of the XUV500 for export markets. An LHD version was spotted in Italy a long time back. However, our good friends at TeamBHP have snapped another mule testing in India.
As one would imagine, nothing else has changed in the LHD XUV500 except for the position of the driver's seat. However, we have a sneaking suspicion that this test mule also has Mahindra's VCT technology (essentially a voice control technology wherein one can dictate commands to the system) that debuted on the XYLO E9. On the launch of the XYLO E9 Mahindra promised that VCT will be available in XUV500 after six months.
Mahindra is also discussing a possible manufacturing plant in Russia to build the XUV500 for the domestic and exports markets in the neighboring European countries. The XUV500 will enter European markets by 2013 to challenge the Dacia Duster.
[Source: Team-bhp.com]