The Mahindra Verito compact sedan is just a few months away from the launch. Mahindra has so far managed to keep the car away from the prying eyes but not anymore.
[These are two different versions of the Verito sub-4m - notice the rear window on both cars to spot the difference, but which one has been finalized?]
The Facebook page of Auto Adrenalin features a pair of spyshots of the car which was taken by their fan Mr. Vivek Singh. The two different mules were caught at an undisclosed location.
On a first glimpse, the Mahindra Verito compact looks more like a hatchback with a steeply sloped rear windshield rather than a sedan with a stubby boot. The good thing is the car's look from the side is not all that bad.
We have asked Dr. Pawan Goenka, President of Mahindra's automotive sector over twitter how did he like the look of the shrunken Verito and he promptly replied that he likes the new look. He also added that the car will be here by the end of March.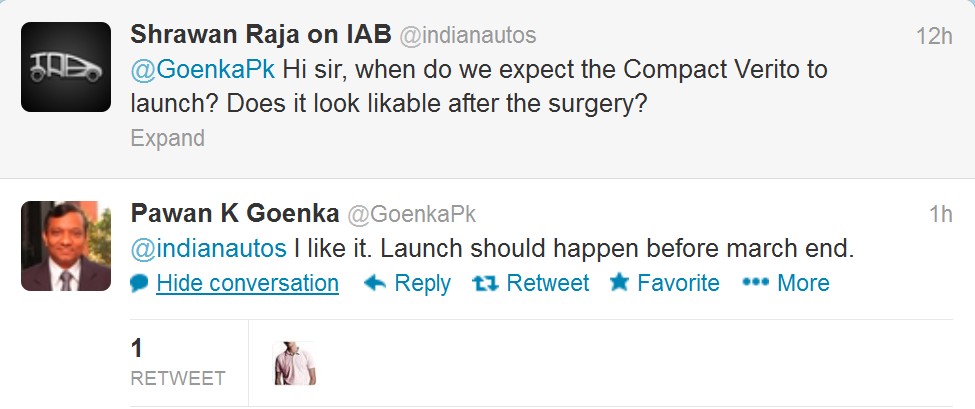 The white test mule has an undisguised front fascia and we could see that the compact Verito's front grill bears a slight difference. The chrome outlining on the grill doesn't seem to be present but we couldn't conclude since the picture is of a low resolution.
We also observed that the blue test mule sports a different rear door window which runs parallel to the roof line where as the white mule has same rear door as the regular Verito. We certainly would prefer the blue car's rear door any day since it renders a fastback like profile for the rear of the car.
The 'Verito CS' is expected to come only in diesel avatar with the 1.5 litre Renault K9K engine like its big brother. Dr. Goenka told Indian Autos Blog that Mahindra has not yet decided on whether to offer the petrol variant or not, but our educated guess is that it's highly unlikely since Mahindra doesn't have a 1.2 litre petrol at its disposal and using the current 1.4 litre would blow the very purpose of a sub-4 metre Verito.
The compact car will continue to use the Verito branding with a suffix which is yet to be disclosed. The boot chopping exercise would make the potent mechanical carriage of the Renault Logan derived Verito more affordable and accessible to a wider audience.
[Source: Auto Adrenalin's Facebook page]