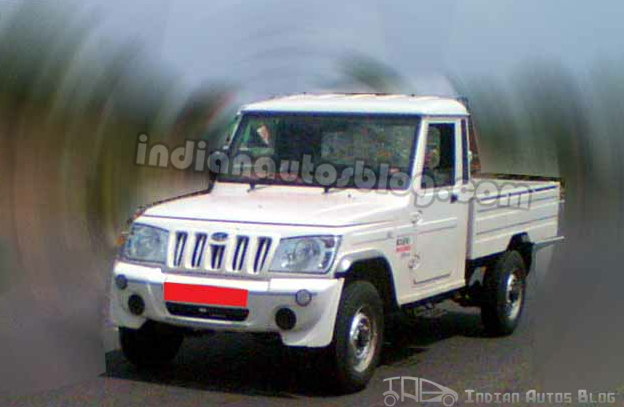 We have received a spyshot from Mumbai roads of a Bolero pickup with a redesigned front fascia.
The Bolero Pickup is sold with the older Bolero's looks but the face spied here is not completely new to the family.
Mahindra retails a dual cab Bolero pickup under the name Bolero Camper. The surgeons have reproduced the Camper's face on to the single cab Bolero Pickup. We don't know what's lurking beneath the bonnet but we can take a guess.
Currently the Pik-up is powered by a 2.5-liter 63bhp DI engine with start-stop technology. Mahindra can consider the CRDI mill (used on the Bolero facelift) to meet future emission norms and encourage the operator to upgrade to better technology.
Mahindra has also redesigned the Bolero's instrument cluster, endowing it with an all-digital setup. This is understandably an expensive piece of equipment and may not find a place in the economy-conscious commercial vehicle application.
Another variant on the Mahindra Pik-up platform that will not complain if provided a nip and tuck is the Bolero Maxi Truck that has shorter side walls.
Mahindra has introduced many new commercial vehicles and variants in 2011 and 2012. The Maxximo Minivan, Gio Compact Cab and Genio twins are testimonies to this claim. Mahindra is said to be working on a posh version of the Maxximo Minivan that could come out later this year or in 2013 to settle scores with the Tata Venture.