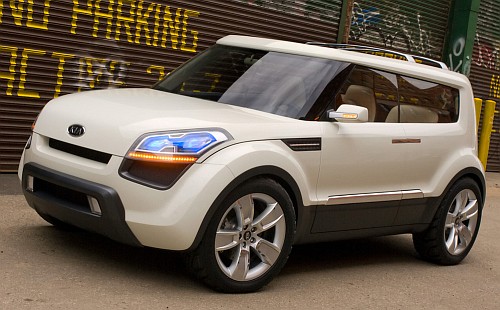 Kia Motors which is a subsidiary of the Hyundai Kia Automotive Group would soon be entering the Indian market. The Korean carmaker had plans of entering the Indian market four years ago but since the market wasn't exactly booming, Kia dropped its plans.
Now with India becoming a very lucrative market for carmakers and being the second fastest growing car market, many car companies are trying to make an entry into India and cash in on the rapidly expanding market. Earlier we had news about French carmaker, Peugeot-Citroen planning to set up a plant near Chennai.

Kia has reportedly hired an international consultancy firm to study the Indian car scene and the feasibility of Kia's global models for Indian conditions.
Kia which is seen as a value brand in other countries may not necessarily drive into India as a value brand. For example Skoda, which is considered as a low cost alternative for premium brands like Vokwagen, Ford, Opel in Europe actually enjoys a reputation as a luxury carmaker in India. Kia could follow the same approach.
Though Kia is a value brand that sells car at dirt cheap prices abroad, the company's manufacturing techniques aren't cost effective to that extent to drive into India with low cost cars. As Hyundai is already an established small car maker in India and having Kia also sell cheap small cars could cause Hyundai to cannibalism on Kia. So we think it makes more sense for Kia to come in as a premium car brand.
Kia's new range of cars with the 'Tiger Face' design language has made its range look better and more upmarket. With new cars like the 'big' small car Ceed, MPV's Soul and Venga and the Forte sedan, Kia could do extremely well in India if its portfolio fills the gaps in the Hyundai range.
News Source: ET