A SRT (Street and Racing Technology) version of any of the Chrysler group products are as exciting as American performance cars can get! If AMG is for Mercedes, SRT is for brands under Chrysler umbrella.
Are you one of those who worship the cult of the Jeep Grand Cherokee SRT's pure badness? Then we have good news for you!
Our friends at Allpar.com report that the Jeep Cherokee SRT based on the new generation Cherokee unveiled at the New York Auto Show is coming. They have even rendered the Cherokee SRT and by the looks of it, the car has a sportier appeal than the regular Cherokee which doesn't cater to everyone's taste.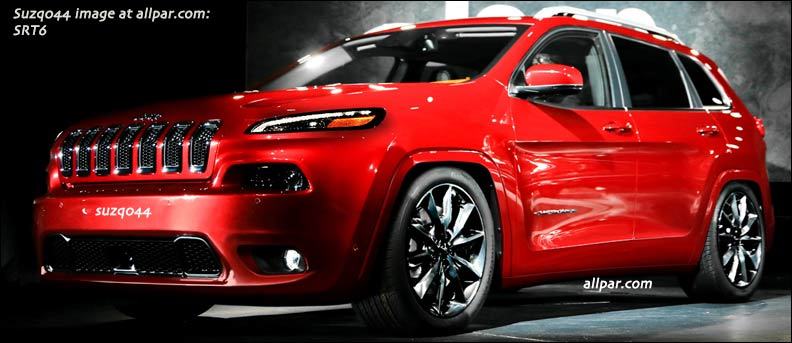 The Cherokee SRT is expected to be powered by a pumped up version of one of the regular engines with the 3.2 litre Pentastar V6 being the most viable candidate. The engine produces 271hp in its regular state of tune and could gather another 100 odd horses with a single stage turbocharger.
If that doesn't do justice to the SRT badge, Jeep could strap another turbo onto the engine thereby squeezing a little over 400hp.
The transmission will be the new 9-speed automatic that will debut in the regular variants of the 2014 Cherokee. The SRT variant is likely to come with all wheel drive system as standard since a powerful front wheel driven SUV isn't all that dynamic.
Regular variants of the Jeep Cherokee will be launched in the US shortly while SRT versions would come at a later stage.
[Source: Allpar.com]