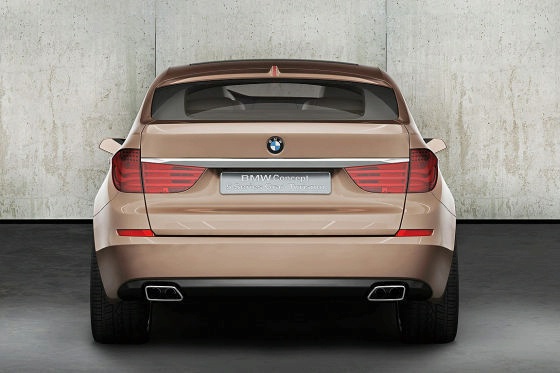 IAB brings to you updated information on the BMW 5 series GT from the beginning, including wallpapers and videos. While the X6 is a cross between the 6-Series and the X5, the 5-Series GT is a cross between the X6 and the 5-Series! This also is BMW's design guru, Chris Bangle's goodbye gift.
To know which segment of people BMW targets with the 5-Gt,watch the video
The BMW 5-Series GT catapults BMW into the unknown zone like it did with the X6. The 5-GT carries forward the BMW brand into new segments but still maintaining the crux-Driving Pleasure without which any BMW is a pointless object. The car looks much better than we had earlier expected it to.
The styling is very bold and has large radiator grille as seen from the 7-series and the CS concept. The rear lights are oversized and L-shaped and very similar to the ones on the 7-series. The headlights in particular are stunning. The wheelbase is very similar to the 7-series which indicates the amount of space inside. Customers are very sure to appreciate the sheer amount of space and legroom on offer. The rear has a hatch door that lifts up opening up to a cavernous boot which is an added advantage. Clearly, the rear is inspired by the X6.
The PAS or 5 Series GT will be a vehicle appealing to those that are looking for luxury, space and performance, but are not willing to spend money on a full 7 Series nor like the SAVs models.
The mode will sport straight 6 engines when it goes on sale coupled to an all automatic 8 speed automatic. We have some salient features of the 5-GT courtesy BMW Blog
The wheelbase is 3070mm, exactly the length of the new 7 Series
Overall length is 4998mm, 7cm shorter than the 7 Series
Height 1555mm
Individual rear seats separated by a center console, fully adjustable seats that can recline individually as well
Seat height is 574mm, compared to X6 at 732mm and 5 Series Sedan at 504mm
Trunk space volume of 1650 liters, close to the 1615 liters in the E61 5 Series Wagon
Frameless doors debut on  BMW
Initially the 5-GT will be available with only 6 cylinder engines with rear-wheel drive
V8 engine and all-wheel drive to follow at a later date
Eight-speed automatic gearbox
So, the big question is - Will India get the 5-GT? The answer is straightforward and simple. Indians are not used to such bodystyles and it would take time for people who think that sedans fetch more respect than expensive hatchbacks and that a luxury model will a inferior badge will not sell well no matter how good it is . So dont expect the 5-GT in the near future but this points to a direction-the future 5 series will look similar and that is quite brilliant!
Shown below are the first high-resolution images released by BMW, courtesy our friends at BMW Blog
IAB