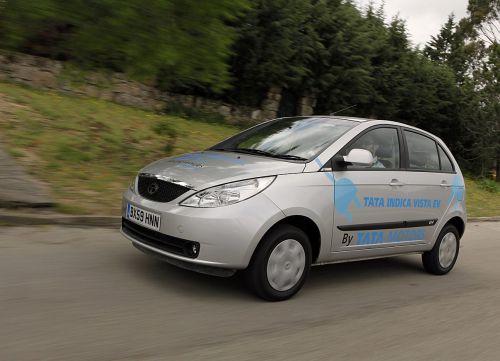 We  brought you news about Tata Motors' UK arm, Tata Motors European Technical Centre acquiring a 50.3% stake in the Spanish company Miljø Grenland / Innovasjon, way back in October 2008.
Though a very critical product, there has been very little coverage on the Tata Indica Vista EV by the Indian media. Now we bring you some important news about the Indica Vista EV, which should help you understand more about the product.
The Indica Vista EV's electrical components were designed by Miljø Grenland / Innovasjon in conjunction with Tata engineers. Externally there is no telling apart the petrol/diesel variants and the electric version of the Vista. The 'engine bay' of the Vista EV contains a 55kW (75 hp) electric motor coupled to a transmission. The car is capable of reaching top speeds of up to 128kmph and the 0-60kmph dash takes only 9 seconds.
The Indica Vista EV weighs about 1350 kilos of which 250 kilos are contributed by the lithium-ion batteries. The Indica Vista EV has a range of about 200kms on a single charge which is an extremely decent figure and also comes with air-conditioning, power steering and power windows.
The specialty of the Vista EV is that the car can be driven till the battery's charge drops to 5% while other EV's have a cut-off of at 15%. But the downside of this is that the Vista Ev takes 8 hrs to fully charged. That's less that what the IAB team gets to sleep every night!
;)
Tata Motors Spain already has 500 orders for the Indica Vista EV which retails at around 24,000 euros, of which the company would make 200 deliveries by the end of this year.
There is also a Tata Ace EV which is capable of carrying a load of 750 kilos and has a range of 50kms (can be boosted to 75kms by installing next gen batteries).
The company is planning to introduce the Tata Nano EV by 2013. The Tata Nano EV would have a 40 kW (55 hp) electric motor which could give the Nano a 'not-so-Nano-ish' range of 150km.
Tata is also setting up a plant to assemble CKD''s of the Indica Vista EV in Norway.
The Indica Vista EV for India? Certainly not now.
Tata Indica Vista EV image gallery
Source: elmundo.es