Comes with a new "e-4WD" hybrid powertrain.
Days after the 2016 Hyundai Santa Fe was spotted undisguised by the Korean Car Blog, the same publication have posted more up-close pictures, focusing on the design changes done to the exterior of Hyundai's flagship SUV.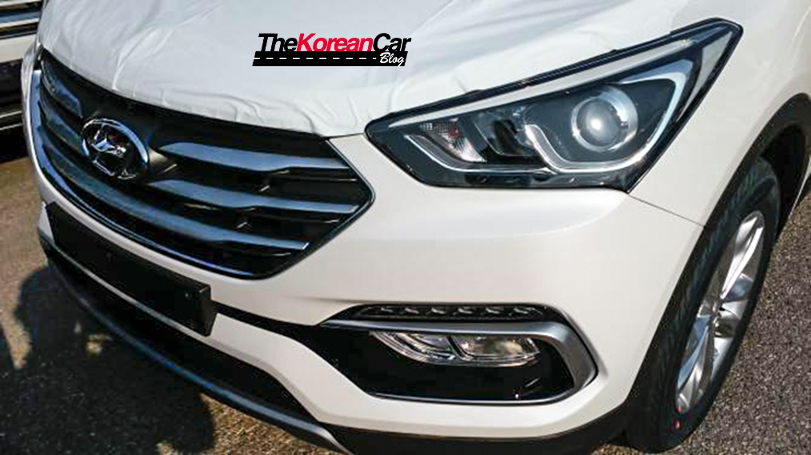 The 2016 Hyundai Santa Fe retains the Storm Edge design language, but Hyundai improves the look by re-designing the front and rear bumpers for a sportier stance, slightly revises the chrome slats in the 6-point grille, while featuring Tucson-inspired exhaust tips and new alloy wheel designs.
It also gets new fog lamps enclosed by chrome fixtures, black plastic elements in the headlamps, and an updated cluster design for the LED taillights.
One of the biggest additions to the 2016 Santa Fe is the "e-4WD" hybrid option, making it the first mass production hybrid SUV for Hyundai. It comprises of electric motors that drive the rear wheels, while the petrol motor powers the front wheels, thus eliminating the need for a propeller shaft across the underbody. The battery (likely a lithium-based unit) can be charged using the car's regenerative braking or a plug-in feature.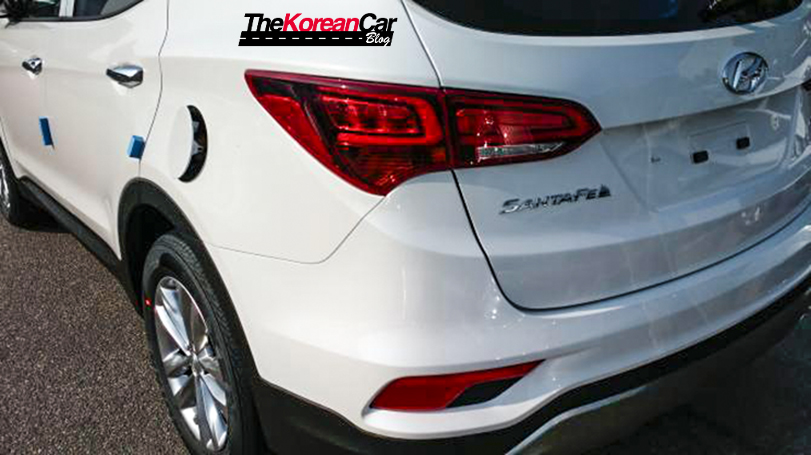 For the Indian market, the 2.2-liter four cylinder diesel engine will likely be retained when the facelift reaches the sub-continent. In its current guise, it outputs 197 PS and 436 Nm of torque (420 Nm with the manual transmission). Transmission options include a 6-speed manual and 6-speed automatic, and the newly developed 7-speed DCT could be given the Santa Fe to serve.
Given that the government recently introduced the FAME initiative (Faster Adoption and Manufacturing of Electric and hybrid vehicles), which allots incentives for electric and hybrid car owners, HMIL could also consider bringing the e-4WD variant as an image booster.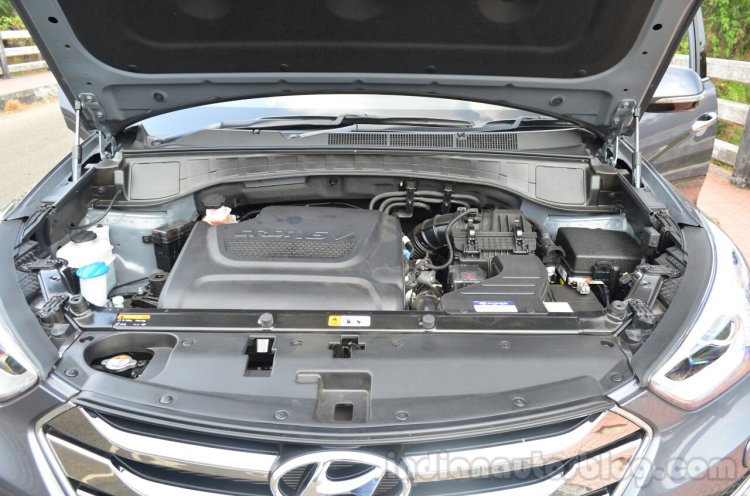 Also Read: IAB reader snaps top-end Hyundai ix25 on test in Greater Noida
The 2016 Hyundai Santa Fe will be globally unveiled and launched in Korea in the coming months. An Indian launch could take place next year, but as Hyundai India haven't been timely with CKD model interventions, they may take much longer to introduce it here. The Santa Fe' arch rivals, Ford Endeavour and Toyota Fortuner, will undergo a generational change, which could prompt the Koreans to fast-track its launch.
Hyundai Santa Fe (current model) - Image Gallery
[Source: The Korean Car Blog]