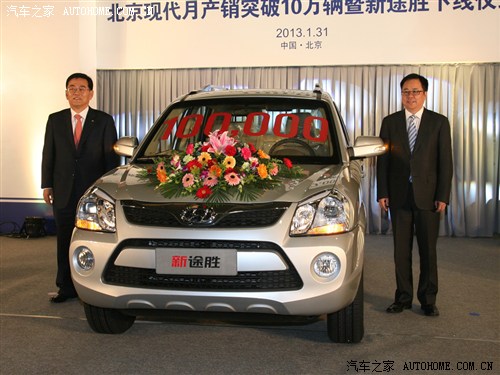 Last week we brought you spy pictures of the Hyundai Tuscon facelift that was caught testing in China, ready to be produced. This week the Beijing-Hyundai JV officially unveiled the car and confirmed our suspicion that start of production was not too far away.
The Tuscon was one of Hyundai's biggest failures in India because of its high pricing and lackluster design. While Tuscon along with its big brother Terrcan gave Hyundai a few forgettable years, the compact SUV's response in China continues to remain positive.
The Tuscon still manages to sell at an average of 4,500 units every month in China. Beijing-Hyundai has decided to give the aging SUV a shot in the arm by facelifting it. The facelifted car has a new front bumper which sports a Hyundai i30-like air dam. The grill is wider and shines brighter than before, thanks to an addition of chrome.
The shape of the headlamps are subtly tweaked but its elements are given a thorough redetailing. Changes on the sheet metal are almost non existent and as a result, the car looks more or less the same when viewed from the side. The rear gets an exaggerated bumper, reprofiled taillamps and a bulging frame for the license plate enclosure.
Hyundai has not revealed the engine details yet, but Chinese media report that the existing 2.0 litre petrol engine with 142 bhp and 184 Nm will continue to power the SUV in tandem with a 5-speed manual or a 4-speed automatic transmission.
The Hyundai Tuscon facelift is expected to go on sale in China in the following months.
[Source: Autohome.c0m.cn]