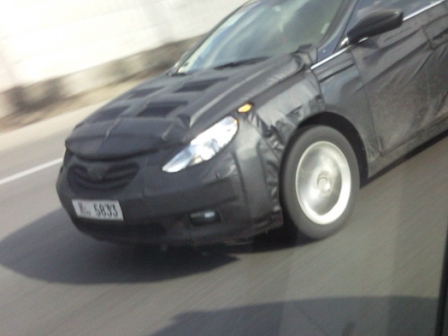 The much awaited next generation Hyundai Sonata also called as the Concept YF has been caught undergoing highway testing yet again, this time somewhere in South Korea.
From the concept and the spy pictures, we can safely expect a design that is very close in character to the Mercedes CLS. The roofline is a major indication of this. Hyundai is moving away from pure functionality to providing something full of character. You can notice that with the design of the i10, i20 in India.
Based on a completely new platform, expect it to be available in an array of diesel and gasoline engines starting 2010. Also expected is a gasoline-electric hybrid system which will be Hyundai's first. The Sonata's hybrid architecture has been officially presented to the public at the 2008 L.A. auto show where Hyundai put on display its latest range of eco-friendly cars and technologies.
Next generation Sonata sedan, and its rumored station wagon variant, are expected to go on sale in South Korean market by the end of this year, while its International debut is scheduled for the spring of 2010. With the Hyundai Sonata Transform just launched in India, expect this to come here by mid 2010.
Source- Hyundai Blog