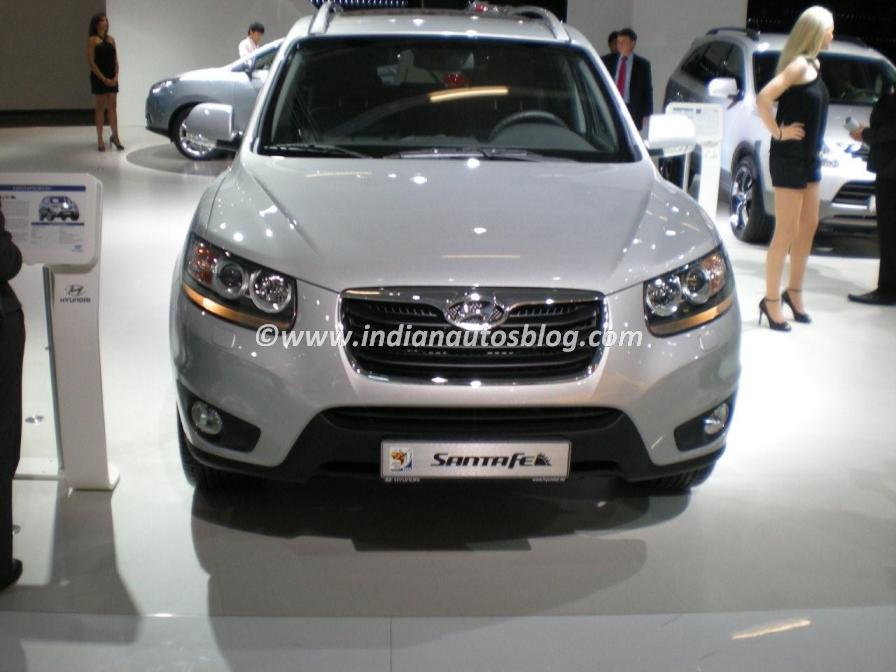 Hyundai Motors India Limited may be launching the Santa Fe crossover SUV in India by September 2010, reports Indian Cars Bikes. The Santa Fe has been  expected in India for quite sometime, and it was confirmed earlier that 2010 will be its year of introduction. But now with the Toyota Fortuner's booking being temporarily closed, Hyundai could cash in on the vacuum in the market to gain a foothold in the attractive premium-SUV segment.
The Santa Fe is a very capable SUV and is a worthy competitor to the Toyoyta Fortuner whose main selling factor is its road presence and the diesel engine than the Toyota badge. The Santa Fe is wider than the Toyota Fortuner and the Ford Endeavour, the same length as the Fortuner and only 70mm shorter.The Santa Fe is bigger than both the CR-V and the Captiva.
Hyundai could most probably use the same 2.0l CRDi diesel engine used in the Sonata Transform in the Santa Fe. The Santa Fe comes with electronically controlled all-wheel drive system and the handling characteristics  and the plush interiors of the Santa Fe would give it the edge over its competition.
The only thing that would be going against the Santa Fe when it is launched is that the Hyundai badge, as the company is known only for making small cars. This is the reason for the sluggish sales of the Hyundai Sonata. Also Hyundai SUV's history in India can be described as tragic.
But what Hyundai could do with the Santa Fe is that it could assemble it here in its Chennai plant and price it extremely well around Rs. 15-17 lakhs and then the buyers simply cant ignore the Santa Fe.
Source: Indiancarsbikes