The Hyundai Mini SUV (or if you feel like calling it the Hyundai Compact Crossover) continues to be tested in places like China and South Korea. Based on the spy images, design artists have been rendering what they think the car would look like sans camouflage.
Our artist, Shoeb Kalania, came out with the first ever rendering. Then there was a rendering made by the Brazilian media with insider inputs.
Recently our friends at Autos Blog Argentina have come out with their version of Hyundai's Ford EcoSport rival.
It seems that Hyundai would endow their compact offering with a Santa Fe-like front fascia. The prominent Hyundai grille used for their SUV offerings along with the headlamps (the basic design resembling that of the new age Hyundais such as the Grand i10 and Santa Fe) give it a very aggressive stance.
The most interesting bit about this rendering is its side profile. The doors and the window lines appear very conventional, though the prototypes caught on test suggest otherwise. We think the Hyundai SUV would be inspired by the Hyundai CURB concept that was shown at the 2011 Detroit Motor Show.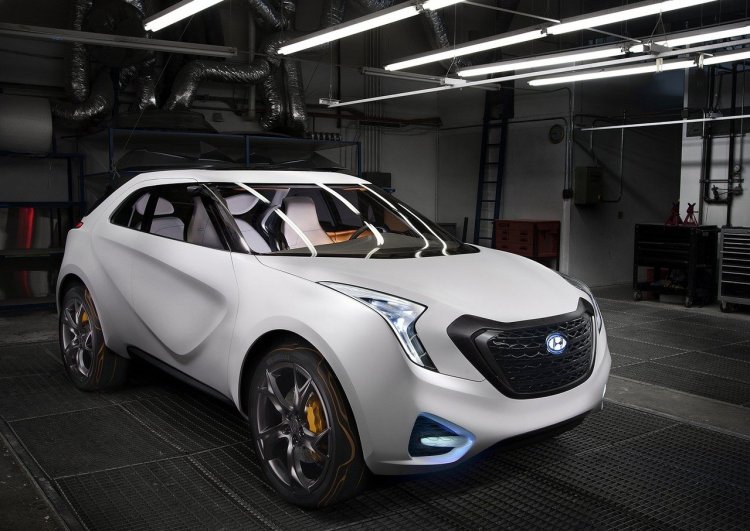 Hyundai's mini SUV is expected to be shown next year at one of the big motorshows. We would imagine Hyundai to show it at the 2014 Sao Paulo Auto Show, given that Brazil has one of the largest markets for such crossovers with the EcoSport and Duster continuing their record sales. Plenty of other opportunities are available earlier as international auto shows are planned in India, US, Switzerland, Seoul and France.
[Rendering courtesy - AutosBlog]