If you think that the choice among Accord, Camry, Superb, Teana and Kizashi is a tough one, then you will not like this news. Choosing a winner will get a whole lot tougher with the introduction of Hyundai's contender – The Hyundai Sonata YF/i45.
A global replacement of the aging Sonata (a.k.a Sonata Embera), this car was the first one to benefit from the new 'Fluidic Sculpture' design philosophy. The styling is certainly a major improvement over the out going Embera. It is more aggressive with sharp lines flowing all around the body giving it a sporty coupe look.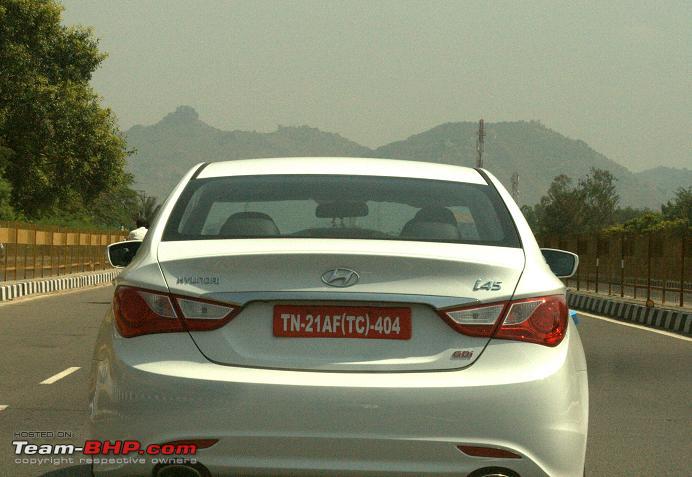 The tail lamps are especially a thing of beauty because they look like the angry eyes of a Korean wrestler.
One good thing that we have always loved in the Embera – the Dual Exhaust pipes are carried over to the i45 as well.
Internationally, the i45 is comes with a 198HP 2.4-liter four-cylinder petrol engine with 198Nm of torque at 4,600rpm. However, if it wants to create ripples in the mid size sedan market, it needs to have a diesel engine. I am quite sure Hyundai is also thinking on similar lines.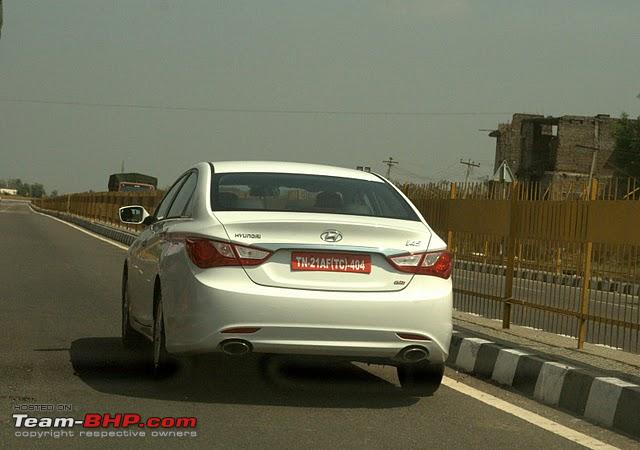 Another reason to get excited about this car is internationally it has scripted a success story. It has received many awards and accolades from the international automotive press. Thus it is safe to assume that the i45 will be a very strong contender in its segment if the pricing is right.
Looking at the spy pics, we bet that the launch is just around the corner.
Source - team-bhp.com