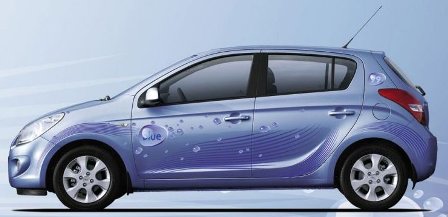 Hyundai unveiled the i20 along with its sister model i20 i-blue at the Paris Motor Show in September 2008. Sources say that the i20 i-blue concept car will make it to production very soon.
The i20 i-blue is the latest from the range of advanced low emissions concept cars from Hyundai. The car looks very similar to the standard i20, but the drastic changes done are hidden under the hood.
Main modifications to make this car green or blue-
full-length under floor covers
reduction in ground clearance
changes to the front and rear aerodynamics
low rolling resistance tires
high performance, low friction engine oil
a six speed manual gear box, whereas the std i20 gets only 5.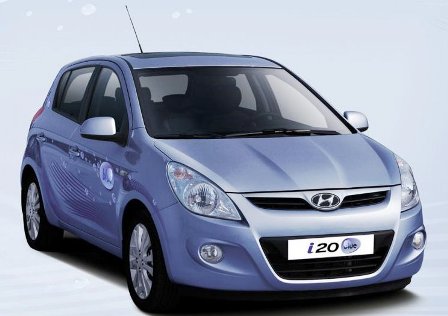 The car is powered by the advanced 1.4L CRDI diesel engine which constructs 90HP with a whopping 220NM torque and is powered by a six speed manual gear box which is expected to deliver an impressive 26 KMPL and CO2 output of just 99 grams per kilometer.
The main highlight of the car is ISG (Idle stop & go) system developed by Bosch. The system automatically switches off the engine when it is stopped in traffic and restarts engine instantly when the driver wishes to move again. This system is expected to cut the fuel consumption and emission by 15.
The ground clearence has been reduced by 15 millimeters (to reduce underbody turbulence) and the Michelin Energy low-rolling-resistance tyres also helps to improve the vehicles performance.
Why not offer it in India when you manufacture it locally?
Well the answer to that question is cost and practicality-
A six-speed gearbox, low rolling resistance tires add to the already hefty price of the i20 and diminishing ground clearance will put major dents on your car's under body not to mention a big hole in your wallet.
Source- Hyundai Blog