Another IAB exclusive!
If you have been tuning into IndianAutosBlog.com this year, Hyundai testing the i20 facelift in Europe is not breaking news for you. Recently our photoshop expert Shoeb R Kalania prepared a very accurate illustration of the model that was snagged when it was unloaded from a container. The makeover is to align it with other models in the Hyundai showroom that flaunt the recent edition of the distinct 'Fluidic Sculpture' design language.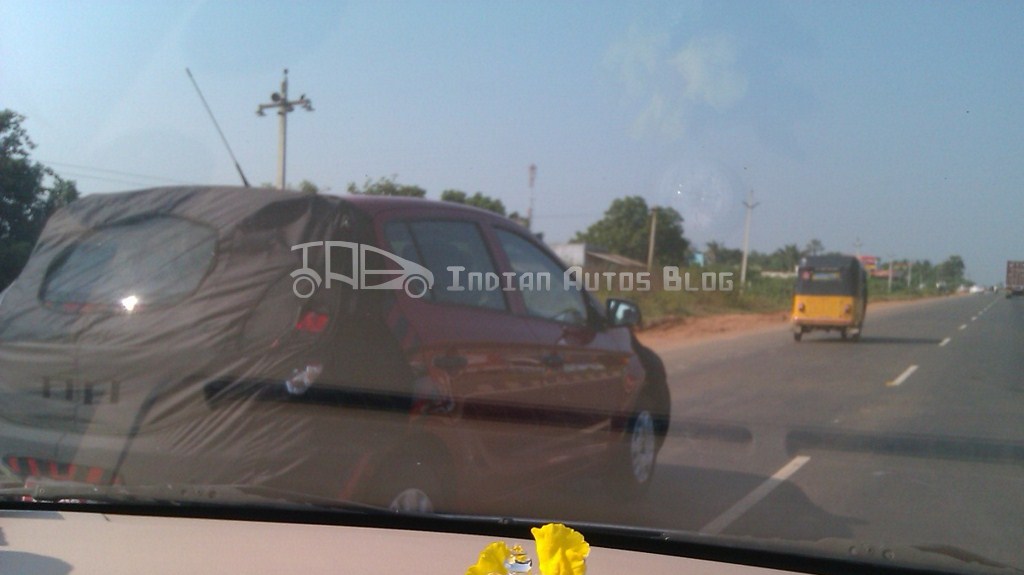 Hyundai is also taking stock of developments and breakthroughs in rival camps. Maruti rolled out the all-new Swift earlier this year to a grand ovation. There are whispers of Volkswagen working on an upgrade for Polo diesel. Fiat is topping-up equipment on the Punto on 3rd of January. Meanwhile the low-price Chevrolet's Sail is being tested by GM near Talegaon for a 2012 launch.
Next year cars like the Ford EcoSport and Mahindra mini Xylo will be competition in new forms and sizes turning on the heat.  With so many launches, the situation can change very fast for the quick-selling i20.
IAB reader Sharav Venkatesh from Chennai sent us an image of a speeding i20 facelift mule, partly camouflage from Sriperumbudur where Hyundai's manufacturing facility is located. The wheel caps are the ones we saw on the European mule.
Under the hood we don't expect anything drastic to change. The current powertrains will play out until a next generation diesel engine is ready.
Recently Hyundai discontinued the 6-speed transmission it shared with the Verna to give the Fludic Verna a clearer distinction.
The i20 has been well received in India. Customers appreciate its cabin space and comfort, interior quality, fuel efficiency and enormous luggage space. Having said that, the extended turbo lag, choppy ride quality and vague steering feedback are complaints Hyundai should address on the facelift.