It has been a very busy week for Hyundai as the South Korean automaker has two international auto shows to make its presence felt.
We brought you the live updates from the New York Show floor where the 2014 Hyundai Equus sedan was revealed. And today, Hyundai has taken the wraps off the Hyundai HND-9 Concept at the Seoul Motor Show.
The Hyundai HND-9 previews the design direction that would be adopted by the next generation sports coupe. By 'next gen Sports Coupe' Hyundai refers to the new Genesis Coupe.
The HND-9 is the ninth concept model developed by the Hyundai Motor Group's R&D Centre in Namyang, Korea and hence the name (Hyundai Namyang Design - 9). Hyundai says "the rear-wheel drive sports coupe concept balances high performance with a sophisticated image."
The design which is a evolution of the Fluidic Sculpture philosophy features a dramatically long bonnet and a fastback style roofline. The hexagonal front grill, butterfly type doors, 22" alloy wheels and dagger like taillight units are the main design highlights.
The concept measures 4.69m in length, 1.89m in breadth, 1.34m in height. The wheelbase stands at 2.86m.
The interior design incorporates a combination of three goals - spiral architecture, elegance and hi-tech interface. The seats project different colors depending on the angle of vision and the hi-tech driver interface is inspired by an airplane cockpit.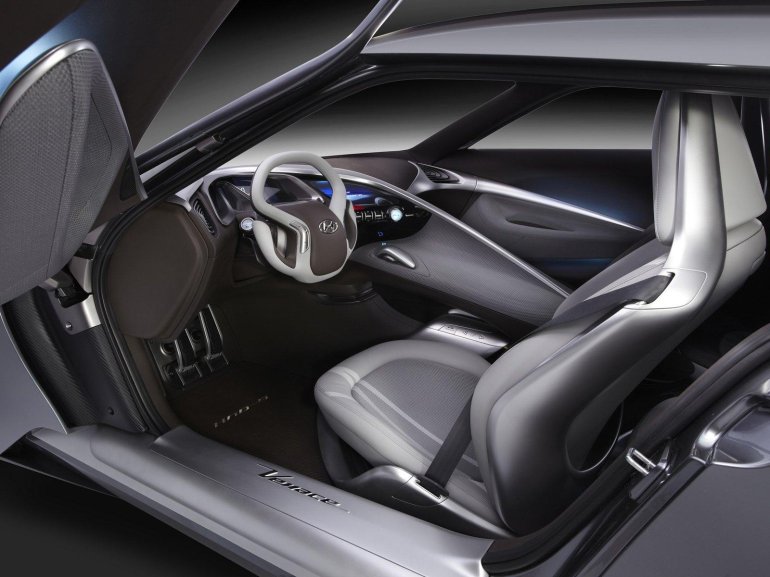 Under the long hood sits a 3.3 litre turbocharged GDI (Gasoline Direct Injection) engine which is capable of 362 bhp. Transferring the power to the rear wheels is a 8-speed automatic transmission.
The next gen Hyundai Genesis Coupe which would borrow cues form the HND-9 Concept is confirmed, however Hyundai has not announced a specific time period yet.
The new Hyundai Genesis Coupe is surely a car to watch out for!